Taliban consider U.S. mass surveillance plan, explore partnership with Huawei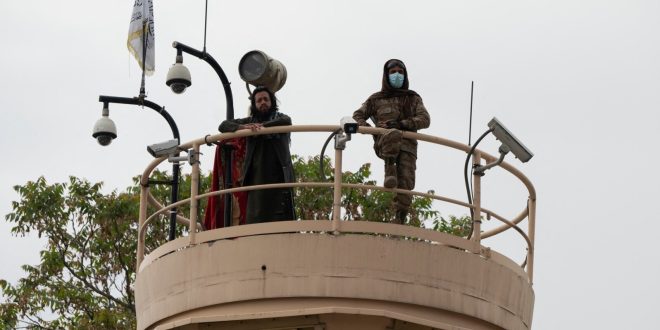 KABUL – The Taliban are contemplating the use of a large-scale camera surveillance network in Afghan cities, a plan that could involve repurposing a system initially designed by the United States before their withdrawal in 2021. This revelation comes from an interior ministry spokesman who spoke to Reuters. The intention behind this move is to supplement the thousands of existing cameras in Kabul.
The Taliban, which has publicly emphasized restoring security and combating the Islamic State, responsible for numerous major attacks in Afghan cities, has also engaged in discussions with Chinese telecoms equipment giant Huawei regarding potential collaboration.
The primary focus of discussions between the Taliban and various foreign nations, including the U.S. and China, is to prevent attacks by international militant groups, including the notorious Islamic State. However, analysts question the Taliban's financial capacity to fund such a program, raising concerns among rights groups that the resources might be diverted to suppress protesters.
Details about the Taliban's strategy for expanding and managing mass surveillance, including acquiring the U.S. plan, have not been previously disclosed.
This mass camera rollout, which will prioritize key locations in Kabul and elsewhere, forms part of a new security strategy expected to take four years to fully implement, as revealed by Ministry of Interior spokesman Abdul Mateen Qani. He stated, "At present, we are working on a Kabul security map, which is being completed by security experts and taking a lot of time. We already have two maps, one created by the U.S.A for the previous government and the second by Turkey." However, he did not specify when the Turkish plan was created.
The U.S. State Department clarified that Washington is not "partnering" with the Taliban and has emphasized to them the responsibility of ensuring that they do not provide a safe haven for terrorists. There has been no response from the Turkish government regarding these developments.
Qani mentioned that the Taliban had engaged in a "simple chat" with Huawei about the potential network in August, but no contracts or concrete plans have been established.
In August, Bloomberg News reported a "verbal agreement" between Huawei and the Taliban regarding a surveillance system installation contract, citing an insider source. However, Huawei denied any such plans during a statement to Reuters in September.
A spokesperson from the Chinese Foreign Ministry stated that they were unaware of specific discussions but affirmed China's support for the peace and reconstruction process in Afghanistan, as well as support for Chinese enterprises engaged in relevant practical cooperation.
Currently, there are over 62,000 cameras in Kabul and other cities, monitored from a central control room, according to the Taliban. It's worth noting that the last significant update to Kabul's camera system occurred in 2008 when the former government relied heavily on Western-led international forces for security.
culled from Afghanistan Times
Leave a Reply
Your email address will not be published. Required fields are marked *