Stakeholders Consultation Meeting Advances Regional Development Plan for North West Geo-political Zone in Katsina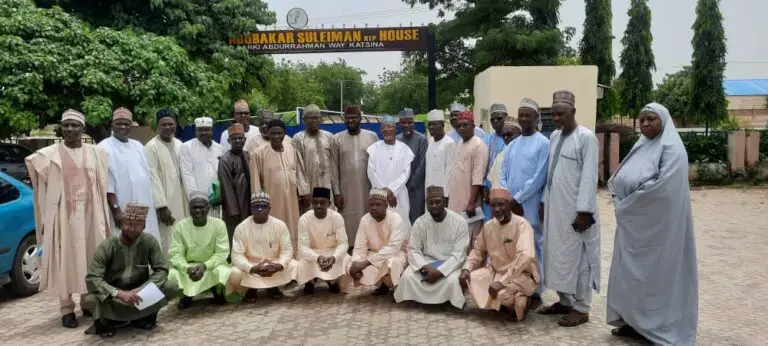 A significant Stakeholders Consultation Meeting focused on the preparation of a Strategic Regional Development Plan for the North West Geo-political Zone was successfully held in Katsina. This pivotal gathering, organized by Pragmatic Solutions Consult, saw the active participation of various Ministries, Departments, and Agencies (MDAs), as well as key stakeholders in lands and town planning.
During the meeting, Tpl. Kabir Yari, the National Coordinator of Pragmatic Solutions Consult Limited, presented preliminary findings of the Master Plan for the North West Geo-political Zone. He highlighted the primary objective of the meeting, which was to engage stakeholders in discussions regarding the priorities for the region.
Tpl. Kabir Yari emphasized that the Regional Development Plan would encompass all seven North Western States, and he assured that the input and submissions of stakeholders would be thoroughly considered in the final plan.
Dr. Faisal Umar Kaita, the State Commissioner for the Ministry of Lands and Physical Planning, commended the Federal Government for its alignment with Governor Dikko Radda's administration's efforts to promote regional integration for peaceful coexistence and economic development. Dr. Kaita underscored the state government's determination to update both its Regional and State Master Plans, which would serve as critical guides for physical development.
The Commissioner disclosed that the Ministry would allocate funds in the 2024 fiscal year for the development of the Master Plans for Katsina, Funtua, and Daura. Additionally, there are plans to revitalize the department of Urban and Regional Planning within the Ministry, with a focus on effective town planning implementation in the State.
Dr. Kaita emphasized that the Ministry would utilize its in-house expertise to devise the development plan, ensuring ownership of the collected data. He further revealed that the enactment of legislation establishing Katsina Geographic Information Services would address issues related to improper planning in the state.
Dr. Faisal Umar extended his appreciation to Governor Dikko Radda for his unwavering commitment to land administration in the state. He expressed optimism that the government's plans to reform outdated land issues would attract potential investors and increase revenue for Katsina State.
In his remarks, Tpl. Lawal Inusa Musawa, the State Coordinator of Pragmatic Solutions Consult, lamented the lack of substantial efforts by previous administrations in Katsina State to develop its Regional Planning. He called for increased efforts to update the existing Master Plan to align with the region's evolving needs.
Alhaji Mustapha Gafai, the acting General Manager of Katsina State Urban and Regional Planning Board, provided a closing assurance that the three arms of the Ministry of Lands, URBP, and the Surveyor General's Office would work diligently to ensure the success of the project.
Press Released Signed By Yakubu Lawal
PRO MLPP Katsina
Culled from ABC News
Leave a Reply
Your email address will not be published. Required fields are marked *