Russia hosts Taliban for talks, vows to aid Afghanistan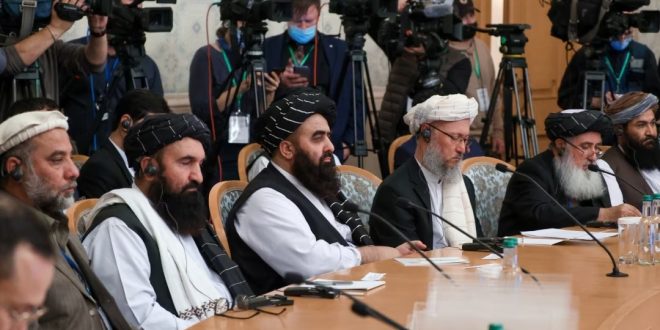 KABUL – In a significant diplomatic move, Russia played host to representatives of the Taliban on Friday to discuss regional threats, affirming its commitment to providing assistance to Afghanistan. These talks took place within the framework of the Moscow Format meeting, where Russian officials made clear their intentions to support Afghanistan both independently and through collaboration with the U.N. food agency.
The discussions unfolded in Kazan, Russia, and are particularly noteworthy as Moscow seeks to assert its influence in Central Asia while concurrently engaged in the conflict in Ukraine. The primary agenda of these talks revolved around addressing regional threats and exploring avenues for the establishment of an inclusive government, as reported by the Russian state news agency Tass.
Zamir Kabulov, President Vladimir Putin's special representative for Afghanistan, was present at the gathering and emphasized Russia's commitment to assisting Afghanistan through its independent efforts and in partnership with the World Food Program.
During the talks, a letter from Russian Foreign Minister Sergey Lavrov was read, wherein Western countries were accused of a "complete failure" in Afghanistan, with a call for them to shoulder the primary responsibility for the country's reconstruction.
It's worth noting that the Taliban assumed power in Afghanistan in August 2021, during the final stages of the U.S. and NATO troop withdrawal after two decades of conflict. Following their takeover, the Taliban instituted stringent edicts, reminiscent of their previous rule from 1996 to 2001, rooted in their interpretation of Islamic law (Sharia). This included restrictions on girls' education beyond the sixth grade and women's access to most jobs and public spaces.
It's important to highlight that no nation has officially recognized the Taliban as the legitimate rulers of Afghanistan. The United Nations has deemed recognition "nearly impossible" as long as the severe restrictions on women and girls persist.
Russia has been hosting talks with the Taliban and other Afghan factions since 2017, with participants including China, Pakistan, Iran, India, and former Soviet nations in Central Asia. Notably, the Taliban representatives were absent from the last meeting in November, and Friday's talks did not involve other Afghan factions.
Kremlin envoy Kabulov has previously stated that international recognition of the Taliban will depend on the inclusiveness of their government and their human rights record.
Despite designating the Taliban as a terrorist organization in 2003 and never removing them from the list, Russia has worked to establish contacts with the group. This may appear contradictory under Russian law, which prohibits contact with such organizations, but the Foreign Ministry has defended such exchanges as essential for stabilizing Afghanistan.
It's also pertinent to mention that the Soviet Union engaged in a 10-year war in Afghanistan that concluded with the withdrawal of its troops in 1989.
In response to these developments, Afghanistan's Taliban-appointed Foreign Minister Amir Khan Muttaqi called on other countries to refrain from dictating terms to them, asserting that Afghanistan does not prescribe forms of governance to others. He encouraged regional nations to engage with the Islamic Emirate, as the Taliban refers to their administration.
Muttaqi extended an invitation to people to visit Afghanistan personally and claimed that "tourists, diplomats, aid workers, journalists, and researchers" could travel to the country with confidence and freedom.
culled from Afghanistan Times
Leave a Reply
Your email address will not be published. Required fields are marked *