'Japa': How we worked outside Nigeria, returned penniless -youths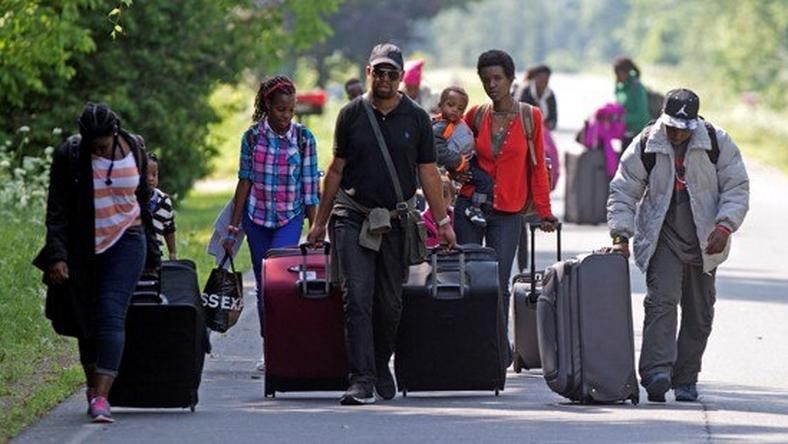 …'I'll never go back, any job in Nigeria better'
…'We escaped death by whiskers'
…'I returned with illness, not money'
Japa, two Nigerian youths who traveled outside the country for greener pastures, have fled the host nation tails between legs and returned to Nigeria with tales of woe.
Made to dream everyday, while in Nigeria, by tales of the rich gold fields of Algeria and the abundant wealth that garlands anyone working in the touted prosperous economy of the North African country, they set off from Zamfara State on a dangerous trip by land through the Sahara Desert.
However, after barely months of sojourn, the two youths managed to return to Nigeria not only penniless but escaped death in Algeria only by the skin of their teeth.
Seeking to diversify its economy, Algeria had last year 'rediscovered' itself and turned to its mineral resources as a pathway to present and future prosperity. Its deposits of gold, zinc, copper and phosphates were economic morale boosters while the country possesses one of the largest iron ore deposits in the world.
Checks by The Daily Times showed that currently, the price of gold in the world market is high, fluctuating between $62,926.41 and $63,584.76 per kilo, depending on the currency and the location.
To fully exploit its gold resources, the Algerian government embarked on construction of underground mines, often through the dangerous method of using explosives to blast holes into the earth.
Taking off from Zamfara State, Habib Yunusa, who is 24, and his colleague, who simply wants to be identified as Umar, told their story exclusively to The Daily Times.
The duo granted the paper recorded interviews in Hausa language but refused our request to photograph them.
They feared possible stigmatization and ridicule by members of the public, in view of warnings by the Federal Government (FG) to youths against joining the migration train, called 'japa', to even those corners of the earth that are not better than Nigeria.
Yunusa said: "I travelled to Algeria to make money, as we were told by those that went there before us that labour is being paid with gold over there.
"I never thought the journey will be as difficult as it turned out to be. We travelled by road. It was a five-day journey in the Sahara Desert full of dust and the weather was so harsh we could hardly see a tree."
Asked what other obstacles he encountered on the way, he responded: "I did not encounter any problem crossing the border but at times if luck ran out on you, the security operatives can catch you and return you to Niger (Republic, the closest sub-Saharan country southwards of Algeria).
"They don't care the amount of money you spent on transport or how you suffered before getting to Algeria."
Recounting what happened when eventually he arrived Algeria, Yunusa told The Daily Times: "My target was to work at the gold mine. So, someone who was there before took me to where the mine is. It is a long journey from Tamanrasset. Transport fare is about 30,000 in Naira equivalent.
"The sight of the place alone is horrific: big holes, heavy machines and sounds of explosive are what you hear everywhere. Everybody is serious with his work.
"I started working the second day of my arrival. I thought I could not make it because the search for the gold is tedious. But a colleague encouraged me that it is always like that for a first timer.
"The search process begins by burying an explosive device on the site. After some hours, it will explode making a deep hole beneath the ground and from there our job begins.
"We work from morning to noon. At night, it's always very cold. We slept amidst fear of snake bite and terrorist attack."
When asked how much he earned, given that money was his principal reason for leaving Nigeria, Yunusa said: "Working on the mine I earned the equivalent of N9000 daily and it is good savings for someone that is working in the bush where there's nothing to buy, but I was never paid with gold.
"I spent four months in Algeria before coming back to Nigeria, though almost all the money I got from there went on transport (fare)."
For 26-year-old Umar, his story was different.
He told The Daily Times that for him, it was one problem or the other before he finally got to Algeria.
His words: "Our car developed a fault making us to spend more days than necessary. Our water got finished. It is only God that saved us to be alive today.
"On getting to Algeria, I worked in Tamanrasset as a shopkeeper. The people of Algeria are Arabs. They are nice people but their security operatives are hostile; whenever they caught us, they treated us badly.
READ ALSO: Moghalu: No Govt official would drive imported cars if…
"I travelled during the cold season. It was not easy for me. I had to buy a blanket worth 20,000 dinar (the Algerian currency).
"I did not stay long because what I heard was far from truth. I travelled out of ignorance. I was told that life is simple in Algeria but what I saw is the opposite.
"I rather stay in Nigeria and do any job that comes my way than go back to Algeria.
I did not come back with anything apart from illness on which my mother spent a lot of money before I regained myself."
culled from Daily Times Nigeria
Leave a Reply
Your email address will not be published. Required fields are marked *