Saudi Arabia leads condemnation of Israeli airstrike on Gaza hospital that killed hundreds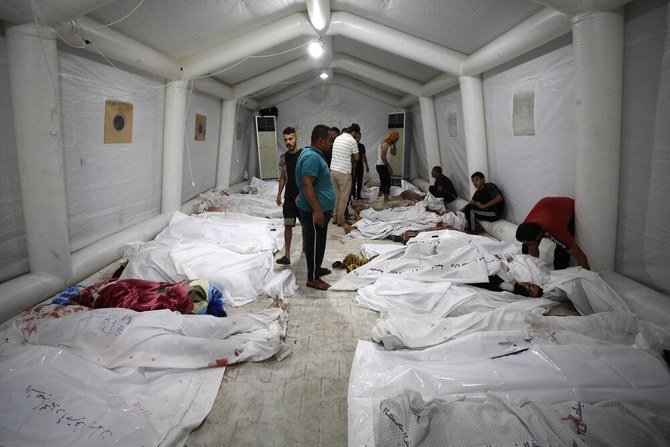 Russia's foreign ministry: Attack was a shocking 'dehumanizing' crime
King Abdullah calls Gaza hospital bombing a 'massacre' and a 'war crime' that one cannot be silent about
RIYADH: Saudi Arabia on Tuesday led global condemnations of the Israeli airstrike on a Gaza hospital that killed hundreds.
The Kingdom condemned in the "strongest terms" an Israeli air strike that killed about 500 Palestinians at a Gaza City hospital crammed with patients and displaced people on Tuesday.
"Saudi Arabia categorically rejects this brutal attack, which is a flagrant violation of all international laws and norms, including international humanitarian law," the foreign ministry said.
The ministry also denounced Israel for its "continuous attacks against civilians despite many international appeals" to stop.
"This dangerous development forces the international community to abandon double standards and selectivity in applying international humanitarian law when it comes to Israeli criminal practices. It requires a serious and firm stance to provide protection for defenseless civilians," a ministry statement said.
The Kingdom also stressed the necessity of opening safe corridors immediately to deliver food and medicine to civilians trapped in Gaza, and said it holds Israeli forces fully responsible for their continued violation of all international norms and laws.
Russia's foreign ministry said on Wednesday that the strike on the hospital in Gaza was a shocking crime, adding that Israel should provide satellite images to prove that it was not involved in the attack.
Foreign Ministry Spokeswoman Maria Zakharova told Radio Sputnik that the attack was a shocking "dehumanizing" crime.
Here are some of the other global reactions to the brutal strike:
Egyptian President Abdel Fattah El-Sisi issued a statement on Tuesday, saying: "I condemn in the strongest of terms Israel's bombardment" on a hospital in Gaza, and calling it a "clear violation of intl law."
Palestinian health authorities said the deaths at the hospital in Gaza were caused by an Israeli air strike, but the Israeli military blamed a failed rocket launch by a Palestinian militant group
French President Emmanuel Macron said Tuesday "nothing can justify targeting civilians" after the deadly strike on a Gaza hospital and called for humanitarian access to the coastal strip "without delay."
"Nothing can justify a strike against a hospital. Nothing can justify targeting civilians. France condemns the attack on the Al-Ahli Arabi hospital in Gaza which caused so many Palestinian victims. We think of them," he wrote on X.
"Humanitarian access to the Gaza Strip must be opened without delay."
UN Secretary-General Antonio Guterres was "horrified" by the deadly strike on a hospital in Gaza, he said in a social media post Tuesday.
"My heart is with the families of the victims. Hospitals and medical personnel are protected under international humanitarian law," Guterres said in the message on X.
The UAE strongly condemned the Israeli attack in a foreign ministry statement saying it "expresses its deep regret for the loss of life and conveys its condolences to the families of the victims, wishing a swift recovery for all those injured."
It stressed "the need for an immediate cessation of hostilities and to ensure that civilians and civilian institutions are not targeted."
The UAE called on the international community to intensify efforts to reach an immediate ceasefire to prevent further loss of life.
Kuwait on Tuesday "strongly condemned and denounced the Israeli occupation forces' barbaric airstrike on the Baptist Al-Ahli Hospital in the Gaza Strip, where hundreds of innocent civilians were killed," the state news agency said.
"The occupation forces targeting of hospitals and public facilities is a violation of the International Humanitarian Law," a statement by the foreign ministry said.
The Organization of Islamic Cooperation also denounced the attack.
OIC chief Hissein Taha considered the attack a "war crime" and a "crime against humanity," the OIC said on X.
Taha held the Israeli occupation accountable for its crimes, terrorist practices, and brutal attacks against the Palestinian people, which contradict all human values and constitute a flagrant violation of international humanitarian law.
The Muslim World League condemned "in the strongest terms" the attack.
MWL chief Sheikh Abdulkarim Al-Issa denounced in a statement this "brutal crime that devoids its perpetrators of all religious and human values, calling on the international community to assume its responsibilities towards protecting civilians from these horrific massacres."
Qatar's foreign ministry also issued a statement in which it strongly condemned the Israeli airstrike saying, "the expansion of Israeli attacks over the Gaza Strip to include hospitals, schools, and other population centers is a dangerous escalation."
Jordan's foreign ministry issued a statement on Tuesday strongly condemning the Israeli attack. King Abdullah said Israel's bombing of the Gaza hospital was a "massacre" and a "war crime" that one cannot be silent about.
Meanwhile, Turkiye's foreign ministry condemned in the strongest terms Israel's "barbaric attack" on the Gaza hospital.
"We are deeply indignant that hundreds of Palestinians lost their lives and many more were injured as a result of the targeting of a hospital in Gaza today, and we condemn these barbaric attacks in the strongest terms," the Turkish statement said.
EU chief Charles Michel said targeting civilian infrastructure in Gaza breaks international law after a deadly strike on a hospital.
"We got this information when we were together during this virtual meeting with the leaders. It seems to be to be confirmed and an attack against a civilian infrastructure is not in line with international law," Michel said after a videoconference of EU leaders.
Canadian Prime Minister Justin Trudeau said the Israeli strike on the hospital in Gaza was "horrific and absolutely unacceptable."
Trudeau told reporters that "it's not acceptable to hit a hospital."
The World Health Organization condemned the deadly Tuesday strike and demanded the immediate protection of civilians and health care in the Palestinian enclave.
"WHO strongly condemns the attack on Al Ahli Arab Hospital," the UN health agency's director-general Tedros Adhanom Ghebreyesus said on the social media platform X, formerly Twitter.
The health ministry in the Hamas-run Palestinian territory said Israeli air strikes on the hospital compound sheltering displaced people had killed over 200 people.
"Early reports indicate hundreds of deaths and injuries," said Tedros.
"We call for the immediate protection of civilians and health care, and for the evacuation orders to be reversed."
Iran's foreign ministry strongly condemned the Israeli air strike, saying it had killed and injured hundreds of "unarmed and defenceless people."
culled from Arab News
Leave a Reply
Your email address will not be published. Required fields are marked *