NSCDC KATSINA STATE COMMAND CELEBRATES 2023 INTERNATIONAL PEACE DAY AND PUBLIC LECTURE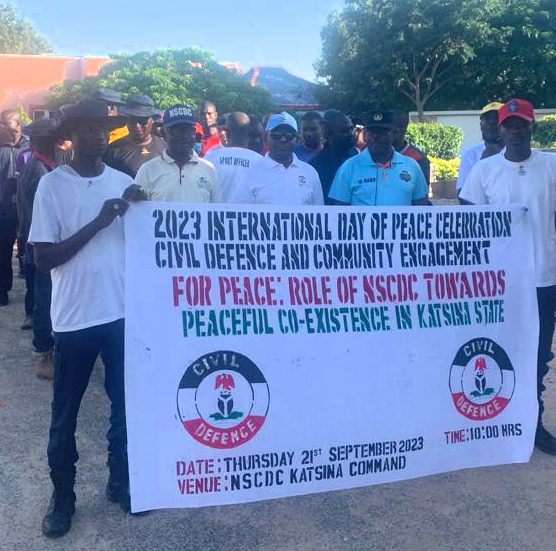 The Nigeria Security and Civil Defence Corps (NSCDC), Katsina State Commnad celebrates The International day of Peace for the year 2023.
The international day of peace which coincides with 75th anniversary for the Universal declaration of Human rights by the UN is an annual commemoration of the United Nations General Assembly (UNGA) that takes place every year on the 21st of September.
The 2023 theme is "Actions for Peace: Our Ambition for the Global Goals". It advocates for 24 hours non violence, cease fire and an aspirations of the Sustainable Development Goals (SDGs).
The command conducted peace walk and public lecture to pass the message of peace and to engage the public on the activities of NSCDC to Peace building and conflict resolution.
In a press statements signed by State Command's PRO DSC Buhari Hamisu, the activity is in line with the NSCDC roles in community peace stabilization and conflict resolution based on the Corps mandate for the maintenance of law and order.
"In its efforts to promote peace and resolve conflict, the Command has arranged and mediated various form of conflicts among members of the public through Peace and Conflict Resolutions (PCR) Unit of the Command.
The peace walk which initiated at the State Command Gidan Dawa Katsina passed through IBB Way to the WTC round about, Muhammad Dikko Stadium, Barhim round about and back to State Headquarters.
So also, the Public lecture involved participants across communities in Katsina Stated.The lecture with the theme Civil Defence Community engagement for Peace:Role of NSCDC towards peaceful coexistence in Katsina State.It exposed the participants on the activities of NSCDC in peace building and conflicts resolutions.
Earlier in his opening remarks,the State Commandant CC Jamilu A. Indabawa charged the participants to take full advantage of the program and contribute towards peaceful coexistence.He further called on the general public to embrace peace for the nation to move forward.
Culled from Askglocnews
Leave a Reply
Your email address will not be published. Required fields are marked *