Students groan as tuition fees hike bites harder across Nigerian varsities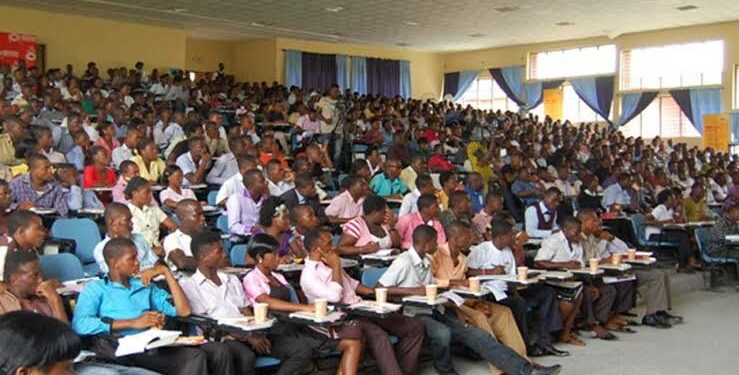 Prior to assuming the highest office in the country, Bola Tinubu, the erstwhile presidential candidate of the All Progressives Congress (APC), pledged to hit the ground running on his first day in office if elected. Staying true to his word, he did hit the ground running right from his day of inauguration, albeit raising concerns. His inauguration ceremony witnessed an unexpected announcement at Eagle Square—the abolition of fuel subsidy payment. This move was swiftly followed by a series of economic reforms and further subsidy cuts across pivotal sectors of our national landscape. One of the sectors that received the sledgehammer of these policies appears to be public tertiary education.

Since that momentous declaration, public universities are taking center stage in a frenzied race to increase tuition fees. This race, spanning from the south to the north, has only gained momentum. However, amid this tumultuous spectacle, Nigerian students find themselves trapped in the quagmire, silently bearing the brunt of these decisions.
Among other things, the country's education system has been left behind in terms of funding, over the years. Even despite no plausible explanation from the universities for their recent actions, it is apparent that the institutions of learning are also striving hard to cope with running costs amidst economic realities.
Where do NANS, Student's leaders stand?
At the national level, the National Association of Nigerian Students (NANS) issued a condemnation on July 22, 2023, regarding the escalating tuition fees in some institutions and the contemplation of such increases in others.
They characterized this move as "insensitive" and "embarrassing". In an unequivocal statement, NANS emphasized that the government possesses the means to finance education and render it accessible to the common man. They further warned of a comprehensive student mobilization for protests if the fee hikes were not promptly suspended or reversed.

Also, student leaders of different universities have also taken a stance, reacting to this development in diverse manners. Some have adopted a cautious and diplomatic approach, while others have reluctantly accepted it as an inescapable reality. Yet, a few have responded with more than mere comments of condemnation but protest. One is the recent development in the University of Lagos (UNILAG) where Police tear gassed and disrupted peaceful demonstration of students against fee hike. Despite their 48-hour ultimatum to the management – which has passed – it seems the new reality has come to stay.
However, when the University of Benin announced a tuition fee hike, the student union of the institution, represented by its president, Mr. Nmoye Israel, alias Cyano, adopted a somewhat surreal stance. In a social media post, Mr. Israel attributed the fee increase to a typographical error, urging students to remain calm as this "error" would be rectified.
But the university's website didn't take long to display an unambiguous statement that the new pricing structure would take effect from the 2022/2023 academic session, serving as a stark reality check for the union and its leader.
Just like the situation in universities in Southern Nigeria, the National Association of Kano State Students (NAKSS) seemingly acknowledged the bitter reality. They recently appealed to northern governors,
philanthropists, and political appointees to extend a helping hand to Bayero University Kano (BUK) students, facilitating their payment of the recently augmented school fees.
Coming to term with hardships
Perhaps borrowing insight from past experiences, students of public universities have begun to brace themselves for an anticipated era of financial hardship. For Miss Umukurusum, a 400-level Mass Communication student at Bayero University Kano, the abrupt fee increment delivered a rude awakening.
She noted that the shock of witnessing her fees surge from a manageable N38,000 to an onerous N100,000 was a sad incident for her. Umukurusum was not alone, her mother and sponsor equally shared in her shock. "It came as a shock to her, due to the huge difference between the former and present fee," she said.
Just like BUK's Mass Communication student, Mike (pseudonym) is a medical student at the University of Lagos with a bitter story to tell.
He described it as "just plain absurd" having to fork out roughly N210,000, a substantial leap from the once-affordable N22,000. Being the child of a single parent, his pensioner father's meager income barely sustains their livelihood. Even during the days of the lower fee, he refrained from burdening his father, relying instead on scholarship funds. However, his lamentations deepen, for these scholarship bodies have not paid in a while. Faced with this sudden fee hike, he finds himself unable to depend on his father's limited earnings, and no assurance that the scholarship bodies will come to his aid.
Ayokari Ayodamola Abugben, a 100-level political science student at the University of Benin, said paying the former fee has always been a struggle for him.
He said, "It's so disheartening hearing the increment of school fee while most of us are still struggling to pay the former fee…"
"When I discovered there was an increment, I felt bad, I told my Mom and she too felt bad but I hate it when my Mom feels that way…"
Continuing, Emmanuel Tobechukwu is a fourth-year Pharmacy student at the University of Ibadan, whose journey unfolds as a rollercoaster of emotions, encompassing frustration, fervent prayer, and a resilient glimmer of hope.
Emmanuel spent a whole day thinking how he could pay his new fees, after the news of the increment reached him. His frustration was amplified as only two of his siblings were able to extend a helping hand. Everyone seems to be grappling with their own financial constraints.
Unlike Emmanuel, Okenyi Sunday Chinweike, a law finalist in University of Ibadan saw the increment coming. He was only concerned with issues of accountability. As he put it, "It was generally expected that the school authority would increase the school fees going by the state of the economy. However, there are some sundry charges that I found lacking basis on why they were imposed and no explanation was offered to clear people's doubt."
Meanwhile, at Ahmadu Bello University, uncertainty and trepidation shrouds the students. The institution remains silent on the fate of its students, leaving them in a state of limbo.
Anas Yunus, a student at ABU, speaking with Tribune CampusXtra, lamented that "In ABU, we are left behind, we have not finished the session yet. If there is increment, we don't even know how much that would be since the school is yet to release bulletin…" This reality has fostered a breeding ground for fear and uncertainty among ABU students, as vividly captured by Mohammed when he confessed, "The incessant whispers of fee hikes in other universities, coupled with our university's silence, plunge many of us into intense suspense and anxiety."
Students' loan facilities to the rescue?

Recall that upon assuming office, the Tinubu-led administration enacted the 2023 Students' Loan Act. While the Act aims to provide interest-free loans for less privileged students, some have expressed their reservations due to its strict eligibility criteria, which may hinder accessibility. Sharing his view, Okenyi Sunday Chinweike opined that "the Student Loan Act is merely an expression on paper…for instance, it provides some requirements that an applicant must fulfill before a loan can be given, but such requirements can only be fulfilled by people who don't need the loan to pay their tuition fees—the less privileged weren't pictured in the scheme of things at all."
Speaking in the same vein, Miss Umukurusum also believed the loan is not accessible to everyone due to its high requirements.
"I think the loan isn't accessible to everyone due to its high requirements, and also I feel the student loan bill is an avenue for the school to increase school fees more, because according to them tuition fees are yet to be added, meaning if the loan bill gets accessible, we are likely to pay a higher school fees, and this is going to affect a lot of students especially those that will not be able to meet the loan requirements which are obviously complicated," she said.
Leave a Reply
Your email address will not be published. Required fields are marked *