FG to launch national strategic eye health plan to stem preventable blindness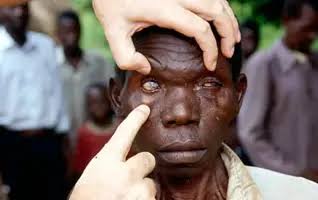 CHAIRMAN of the National Eye Health Committee of Nigeria, Professor Ernest Omoti, has said the Federal Government will soon launch a five-year National Strategic Eye Health Plan, to stem preventable blindness that presently occurs in three out of every four blind people in Nigeria.
Professor Omoti made this disclosure in a valedictory lecture, entitled 'Eye Health in Nigeria: Integrating Eye Care towards Universal Health Coverage,' in celebration of Professor Ayotunde Ajaiyeoba's 70th birthday, at the College of Medicine, University of Ibadan.
He stated that the eye health plan, which will ensure every Nigerian, irrespective of age and socioeconomic status, can assess eye care, will be launched alongside guidelines for screening and the treatment of diabetic retinopathy, a domesticated toolkit for glaucoma, and five billion pairs of glasses for Nigerians.
"The treatment guidelines are to ensure we have a uniform way in this country to manage different eye problems and we prepared the guidelines by getting the involvement of all stakeholders in eye care while adapting some documents of the World Health Organisation to our Nigerian situation.
"We had an audience with President Bola Tinubu; he promised an initial five million pairs of glasses to be distributed free in Nigeria through the National Eye Health Programme at the Federal Ministry of Health and the provision of technical support to unlock World Bank funding, especially in the area of implementing school eye health programmes in Nigeria," he said.
Professor Omoti said that eye disease and vision loss are global health problems that impose significant socioeconomic burdens on nations, families and individuals, adding that there is evidence that access to eye care throughout life contributes to the direct and indirect attainment of the Sustainable Development Goals (SDGs).

He declared that more than 90 percent of the world's blind people reside in developing countries, with causes of blindness and visual impairment mainly coming from cataracts, glaucoma, optic atrophy and corneal opacity.
While noting that poor funding and an initially non-existent budgetary line were major limitations to achieving universal eye health in Nigeria, Professor Omoti declared that it is imperative that all tiers of government in Nigeria implement the National Eye Health Policy of 2019.
He also solicited the support of all stakeholders in the implementation of the national eye health policy, to ensure the achievement of universal eye care services and universal health coverage in Nigeria.
Eminent personnel, including the Vice Chancellor, University of Ibadan, Professor Kayode Adebowale, Provost of the College of Medicine, Professor Yinka Omigbodun, Professor Oyin Olurin, and his students and mentor, all described Professor Ajaiyeoba,
who had spent 43 years in eye care delivery, as a giant in ophthalmology and a brilliant physician that dedicated his life to the advancement of eye care.

Leave a Reply
Your email address will not be published. Required fields are marked *