Radda Assures Katsina Residents Of New Era Of Inclusive Governance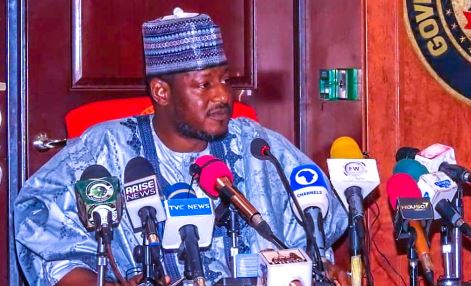 KATSINA – As part of his first 100 days score card, Malam Dikko Umaru Radda of Katsina state has assured the citizens of ensuring progress, development, and the realization of a brighter future through laying the foundation for a new era of security, prosperity and inclusive governance in the state.
Radda made this assertion at a press conference held to mark his first 100 days in office held at the Government house council chambers in Katsina on Wednesday.
"I am acutely aware of the challenges we face, but I am equally optimistic about the opportunities that lie ahead. During this short yet impactful period, we have embarked on a journey of transformation across various sectors that are vital to the well-being of our citizens".
"Our approach has been one of strategic planning, engagement, and partnership, both within the state and beyond its borders. Our commitment to transparency, accountability, and good governance is unwavering. We have taken significant steps to enhance public participation in decision-making processes and to ensure that resources are managed efficiently and effectively for the benefit of all", he said.
He added that, government has constituted no less than 20 committees involving public and private officials to look into various areas of how it can deliver for the people of Katsina state.
"The reason I have decided to mark the first 100 days is not because it is becoming popular but because it is necessary. Our people are facing unprecedented hardships and they deserve to know how we are laying the foundations that will bring ease to their lives".
The Governor explained that, some of the measures taken are immediate while others are long-term, "My administration campaigned on public sector administration reforms and one of the first exercises we conducted was a complete review of the mandates of all ministries, departments, and agencies to eliminate duplication and inefficiency in the system".
According to him, the result led to realignment of various MDAs and identified the need for the creation of new ones. We created a ministry for internal security and home affairs, a ministry for higher, technical, and vocational education, an ICT Directorate to serve all MDAs, and the department for public administration reforms.
Culled from Independent
Leave a Reply
Your email address will not be published. Required fields are marked *