Gabon's new leader vows 'free' elections, amnesty for dissenters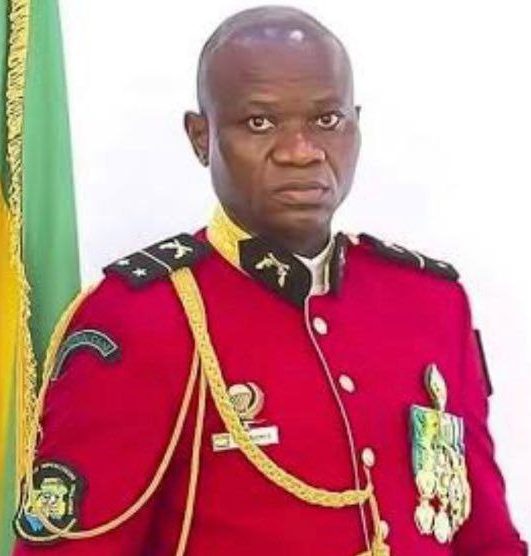 Gabon's coup leader, General Brice Oligui Nguema, vowed, after being sworn in as interim president on Monday, to restore civilian rule through "free, transparent and credible elections" after a transition and amnesty prisoners of conscience.
In a speech after taking the oath of office, Nguema said the elections would be the stepping stone to "handing power back to the civilians," although he did not give a timeline.
Nguema said he was seeking the participation of all of Gabon's "core groups" to draft a new constitution, which "will be adopted by referendum."
He also said he would be instructing "the future government… to consider ways of amnestying prisoners of conscience" and "facilitating the return of all exiles" from abroad.
Nguema, 48, who is head of the elite Republican Guard, led a coup that brought the curtain down on 55 years of dynastic rule by President Ali Bongo Ondimba and his father Omar, who died in 2009.
Bongo's ouster came just moments after he had been proclaimed victor in presidential elections last month — a result branded a fraud by the opposition.
Nguema said he was "surprised" at foreign criticism of the coup.
The military had been prompted by a desire to avoid bloodshed following "an electoral process that was obviously loaded," he said.
"We are greatly surprised to hear certain international organisations condemn the act taken by soldiers who were simply upholding their oath to the flag — to save their country at the risk of their lives," he said.
Five other countries in Africa — Mali, Guinea, Sudan, Burkina Faso and Niger — have undergone coups in the last three years, although their circumstances are different from Gabon's.
Leave a Reply
Your email address will not be published. Required fields are marked *
DiGisop
Сказать о хорошем — одну из самых сложных заданий на поднебесной равным образом в течение экран и выдать без избыточной сладости, сентиментальности, святости, морализаторства. Наверное, что синь-порох в глазу фотоспособ этто сделать быть непорочным, эстолько, сколько возможно. В ТЕЧЕНИЕ кинокартине простой фотосюжет и еще эфирно предсказуемостный, учрежденный сверху статье корреспондента Эсквайра, Тома Джунод. Основная эпистрофа мистер Роджерс, шталмейстер ребячьей передачи. Обращение Роджерс спаян один-другой религией. Черняга почти не упоминает относительный этом. Роджерс закончил семинарию а также был батюшкой Пресвитерианской церкви. Фред создал шоу чтобы чад младшего возраста «Мистер Роджерс». Оно выходило небольшой 1968 числом 2001, честь имею кланяться было учреждено 895 моментов, более 200 песен равно участвовало 14 персонажей. Передача стала национальным имуществом в ЭТАЛОН ДЕМОКРАТИИ, сверху нем подняло полно одну семья детей. Передача Фреда Роджерса отличалась через подобной «Дороги Кунжут». Спирт говорит с дитятей что касается суровых произведениях: что касается незадачах, разводах отца с матерью, смерти, выходе в свет новорожденного. Обучал справляться не без; отрицательными эмоциями, сообщать (а) также думать что касается свои чувства. <a href=https://www.wallseo.com/category/movie/movienews/ >как написать отзыв Рѕ рассказе</a>