2024 Olympics Qualifiers: Nigeria faces tough opposition in Africa Rugby fixtures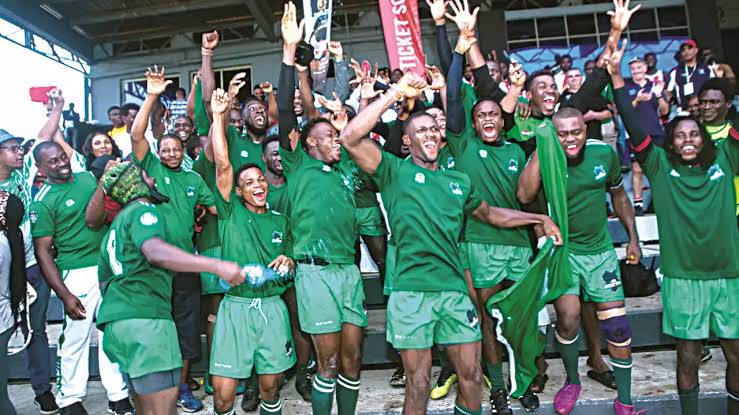 2024 Olympics Qualifiers: Nigeria faces tough opposition in Africa Rugby fixtures
The Nigerian rugby national team, the Black Stallions, have been placed in a dicey pool as the team bids to qualify for the 2024 Olympic Games scheduled to hold in Paris, France.
The Olympics will hold from July 26 to Aug. 11, 2024 with most of the events taking place at the 80,698 capacity Stade de France, the national stadium of France.
A statement issued on Sunday by Tony Nezianya, the Public Relations Officer (PRO) of the Nigeria Olympic Committee (NOC), stated that Nigeria were drawn to face world number 21, Namibia and world number 33, Kenya.
Nigeria's Black Stallions who are world number 69 will also face Zambia who are 68 in the World Rugby rankings following the draw for the fixtures released by the Rugby Afrique for the tournament.
The Africa qualifiers will be held from Sept. 16 and Sept. 17 in Zimbabwe and it would be Nigeria's first Olympics in rugby if the team qualified.
The Black Stallions are expected to take on Shujas of Kenya, one of the strongest powerhouses in African Rugby, on Sept. 16 before taking on Zambia, and the Welwitschias of Namibia.
It would be recalled that the Black Stallions finished second at the pre Olympic qualifiers in Mauritius earlier in the year where they lost to Algeria in the final.
The team lost in the final to Algeria 24-5 having defeated Ghana 24-7 in the opening match before beating Burundi 43 -14 and in the last pool match blew away Congo 43-0.
The Coach Steve Lewis tutored side thrashed Botswana 33-5 to qualify for the semi-finals where they met a highly determined Cote D'Ivoire side who also lost to them 20-12.
The Kenya rugby Sevens team, fondly called Shujaa, a Swahili word meaning courage, confidence, bravery, or heroism, will be aiming for their third consecutive appearance at the Olympics.
Namibia who finished fifth at the last qualifiers are hoping to do better this time around, while Zambia are hoping to rise from their slumber to upturn the table.
For Nigeria, the Black Stallions are hoping to make it to the Olympics after shocking the world in 2014 by qualifying for the Commonwealth games in Glasgow, Scotland with Steve Lewis in charge. (NAN)(www.nannews.ng)
Leave a Reply
Your email address will not be published. Required fields are marked *