Governor Radda Pays Surprise Visit to Kukar Getsa Primary School in Katsina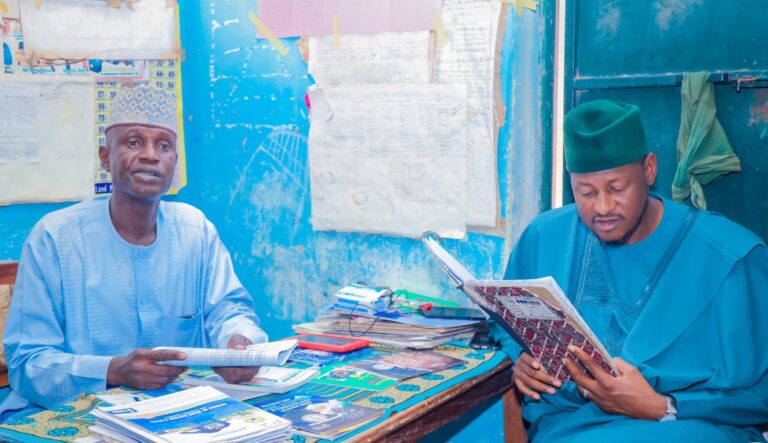 Katsina State Governor, Malam Dikko Umaru Radda, PhD, conducted an unannounced visit to Kukar Getsa Primary School, Katsina, on Monday. The surprise visit was part of his ongoing efforts to assess the state of education in Katsina.
Arriving at the school in the early morning hours, Governor Radda focused on evaluating various aspects of the educational environment. He spent considerable time observing classroom activities, assessing the capacity of teachers, and engaging with the students to gain insights into their learning experiences.
Governor Radda's visit was marked by hands-on involvement, as he not only monitored teaching sessions but also personally engaged with the pupils, offering guidance and support where needed. The governor took the opportunity to inquire about the students' understanding of the subjects relevant to their academic levels.
Concerned about the dilapidated condition of the school premises, Governor Radda swiftly made a directive for the immediate rehabilitation of Kukar Getsa Primary School. This decision underlines his commitment to improving educational infrastructure and ensuring a conducive learning environment for students in Katsina.
The surprise visit demonstrates Governor Radda's dedication to enhancing the quality of education in Katsina State and fostering a brighter future for its youth. The rehabilitation of Kukar Getsa Primary School is a vital step towards achieving these objectives and providing students with better educational opportunities.
Culled from ABC News
Leave a Reply
Your email address will not be published. Required fields are marked *