Youth-Led Coalition Demands Accountability and Transparency in Nigeria's Oil Sector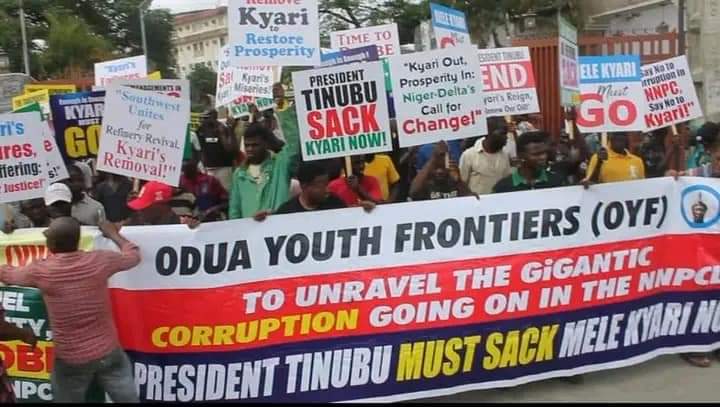 Zaharaddeen Ishaq Abubakar
In a groundbreaking show of unity, 18 youth groups, non-governmental organizations, and civil society organizations have come together to address the pressing concerns surrounding Nigeria's oil industry. They have not only voiced their apprehensions but also organized a series of impactful demonstrations across the nation, emphasizing their call for the removal of Mele Kyari, the Chairman of the Nigerian National Petroleum Corporation (NNPC).
These organizations, deeply troubled by the current state of the oil sector, have taken to the streets, particularly in Abuja and other major cities in Nigeria, to protest potential fuel price increases planned by the Independent Petroleum Marketers Association of Nigeria (IPMAN). Their primary grievance centers on the allegations of corruption and mismanagement that have cast a shadow over the NNPC since Engr. Mele Kyari's appointment as CEO.
The coalition has uncovered instances of corruption, including the fuel subsidy scandal, misappropriation of fuel sale revenues, irregularities in pipeline monitoring contracts, and oil theft. These acts of corruption have far-reaching consequences, impacting the lives of ordinary Nigerians, depleting the nation's resources, and undermining budgeting practices, posing a significant threat to the economy and stakeholders.
Particularly concerning is the alleged deduction of 2.1 trillion naira from the NNPC's monthly income, which has not been transferred to the federal fund, along with allegations that Kyari may have been involved in the importation of contaminated fuel, causing damage to vehicles and generators in 2022.
Given the gravity of these allegations, the coalition calls for a thorough investigation and, if necessary, the prosecution of Mele Kyari for misappropriation of funds. They also question the legality of Kyari's appointment and argue that NNPC's recent transformation into a private company under the Petroleum Industry Act has implications for its access to state funds.
The coalition further highlights the NNPC's failure to fulfill its obligations as a joint venture supplier with Western Oil Majors, along with a lack of transparency in publishing crude oil contracts and account statements under Kyari's leadership. They assert that there has been no substantial increase in oil production and transfers to the federal fund since Kyari assumed the role of CEO.
In response to these allegations, the coalition calls upon President Bola Ahmed Tinubu to take decisive action in terminating Mele Kyari's tenure and initiating a comprehensive investigation. They stress that such measures are crucial for upholding the integrity, accountability, and growth of the Nigerian petroleum industry.
With these serious allegations, the coalition underscores the urgency of removing Kyari and urges the Federal Government to address these concerns promptly. The people of Nigeria deserve leadership that prioritizes honesty, trustworthiness, economic stability, and the welfare of its citizens.
The allegations raised by this coalition are of paramount importance, demanding a thorough examination and accountability to restore integrity and trust in the NNPC, ultimately benefiting the Nigerian economy and its people.
Leave a Reply
Your email address will not be published. Required fields are marked *