Why I want to establish electric vehicle company – Katsina automotive designer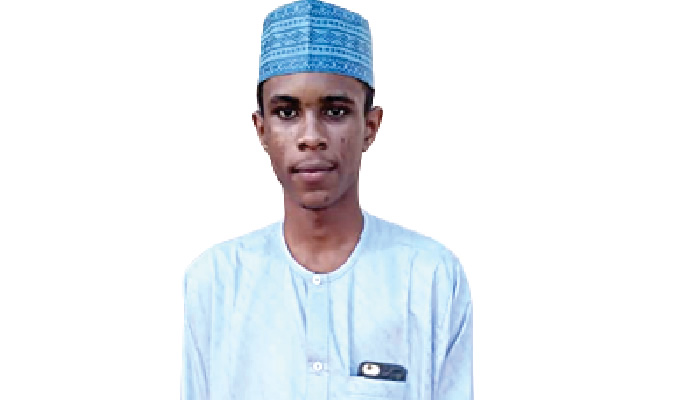 A 17-year-old automotive designer, Al-Amin Sabitu, from the Danja Local Government Area of Katsina State, tells OLAIDE OYELUDE about his passion for the design of electric vehicles and his ambition
What do you do for a living?
My name is Al-Amin Sabitu. I am 17 years old. I am from the Jiva ward in the Danja Local Government Area of Katsina State. I attended Model Staff Primary School, Bakori. For secondary education, I attended Ahmadu Bello University Demonstration School, Zaria. I left there in SS2.
Why did you leave?
I was in SS2 when I took the General Certificate Examination and I obtained B3 in Mathematics, Further Mathematics, Chemistry, Physics and Technical Drawing. I also had a C5 in English Language. That was in 2022.
I have been doing research and meeting various professionals in automotive engineering to further widen my scope in the field. I also seized the opportunity to meet experts in electrical automotive engineering, especially those in electrical armoured vehicles and engineering and I have gained a lot from that experience. In fact, I had a meeting with a company in Lagos that specialises in the production of electrical armoured vehicles, drones and military equipment. The company also promised to collaborate with me.
When exactly did you pick interest in electric vehicles and why?
I began to develop an interest in automotive designs while in junior secondary school. Indeed, I started coming up with various designs in JSS2. I also started researching electrical automotive engineering when I was in junior secondary school. I went to the Centre for Democratic Development, Research and Training, Zaria, where I met a man who started mentoring me and guiding me. He also connected me with people like Prof Aliu Rafindadi, who was then the Head of Department of Economics at Ahmadu Bello University, Zaria. In the process, I was also introduced to the Katsina National Talent Hunt Challenge, a programme initiated by the Katsina State Government to identify and support talented youths. My quest for more knowledge on electrical engineering also took me to the National Automotive Design and Development Council, Abuja. The council has a centre in Zaria where I also met Dr Felix Achiv. He also guided me and further enlightened me on automotive engineering and other engineering concepts. I also met the Head of Department of Mechanical Engineering at Ahmadu Bello University, Zaria, Prof D. M. Kuller in early 2021. He also introduced me to more advanced knowledge in electrical engineering, especially electric vehicles, quality texting and aero-dynamics simulation, among others.
What role did your parents play in all these? Did they encourage you?
My parents appreciate their privacy and I want to respect that. My father is a scholar based in Katsina. My mother is a civil servant also working in Katsina State. My mother has, however, been supporting me all along. She has been encouraging me to go ahead in my ambition. I would not want to say more than that, please.
Did you receive any tutelage in the secondary school you attended that increased your interest in electric vehicles?
No, the school did not have a science laboratory per se. It only had some workshops where students mainly carried out drawings on buildings and similar drawings. As I told you earlier, I developed a personal interest in automotive designs and the concept of electric armoured vehicles and I started with the designs before moving to the electric vehicles concept. All I know is that my mother gave me full support when I began and she has continued to give me the needed support.
Does that mean your father did not support you?
Please, I told you, my parents will appreciate their privacy.
What type of family were you born into?
I am the first child in the family and I am the only male child of my father and my mother. I was born on February 3, 2006. Please, I do not want to say more than that.
You seem to be more attached to your mother. What type of relationship do you have with your siblings?
I am the only one from my mother – no brother, no sister. My mother is naturally nice and she helps many people whether she knows them or not. I plan to establish my company in Nigeria even if I am not in the country, I plan to assist teeming youths as my mother would rather love this.
What more can you say about your interest in electric armoured vehicles?
The concept involves futuristic designs and hyper-realistic designs. It involves designs of different categories like sedan, pick-up, etc; In short, it involves the styling of cars. What spurred my interest in electric vehicles and armoured vehicles is that I looked into the automotive industry in Nigeria and I discovered that the electric automotive industry is still new in Nigeria while the cars are still very expensive here. In the course of my research, I also observed that no one had ventured into electric armoured vehicles. Hence, I developed a special interest in the concept and I consulted widely on the concept, accumulating more advanced knowledge on the concept. In fact, during my meeting with a Lagos company, I told them about my ambition to set up an electric automotive industry in Katsina and whether the company could collaborate with me to make the dream become a reality.
Why do you wish to establish the industry in Katsina?
My wish to establish a sustainable electric automotive industry is for various reasons. Firstly, it would provide jobs for our youths. Secondly, the electric vehicles I would be producing would be affordable and not expensive. Third, electric vehicles reduce carbon emissions. Electric vehicles are cheaper to maintain. You can use an electric vehicle for two years before servicing it.
What was the response you received from the company?
The company promised to get across to me, though I have yet to hear from its group managing director. There are others in Abuja who have also shown interest in my ambition and we are still discussing.
What is your latest concept all about?
Oh, you mean the 4,000-horsepower armoured vehicle? The vehicle works on an electric powertrain. What drives the vehicle are the five electric motors – two electric motors at the front and three electric motors at the rear, being an armoured vehicle. This is designed to make occupants of the armoured vehicle more comfortable especially when the vehicle climbs a higher terrain or higher altitude. I also found out that to drive that armoured vehicle, you will need a powerful battery pack. So, I did research on lithium iron batteries. I designed a whole battery pack. The pack contains 32 batteries and each battery can produce adequate horsepower. So, from my innovation, an electric vehicle without armour can travel for 1,200 kilometres on a single charge while an electric armoured vehicle has a range of 500 to 600 km on a single charge.'
With your talent, are you considering returning to school to improve your knowledge through higher education?
As we speak, I have begun to process my admission to Coventry University in the United Kingdom. My intention is to go for a four-year programme at the institution which will give me the opportunity to study for my degree and a master's. From my research, I discovered that most of the designers of popular car brands in the world are products of the university.
I can even assure you that while in the United Kingdom, I have a team on the ground already in Nigeria who I will be communicating with to get our business going. Also, I will be communicating with the Katsina State Governor, Mallam Dikko Radda. The governor has assured me that he will sponsor my higher education and he will want to know the progress I am making in my educational programme.
Can you explain what happened during your meeting with the governor?
The meeting took place on Tuesday, September 12, 2023, in his office. What happened was that the governor summoned me for the meeting after reading about my ambition. He was in Turkey then and he directed that once he returned to Nigeria, I should be brought before him. During the meeting, the governor advised me to study further. He said going back to school would further assist me in my ambition, especially in the areas that concern the patent of my products. He also said my ambition required legal support. The governor then assured me that he would sponsor my education to any length I wished. He also said the state would not allow me to rot with my talent.
What was your observation during your various meetings with individuals and companies when you were trying to sell your ambition to them before you met the governor?
To tell you the truth, I observed that Nigeria still places emphasis on paper qualifications rather than what you can do with your hands and head. Fortunately, the new world we are in now has moved to innovation and skills. That is why I am happy with our governor for his support for me. The governor is in love with innovation and technology. I don't know whether you have been to the Katsina Youth Craft Village. The governor is revamping the place and his aim is to encourage talented youths to further develop their skills at the village.
Are you married?
No.
Do you plan to get married soon?
After the completion of my university education and after I must have set up my electric automotive industry.
Don't you think that may take a long time?
The reality today is that one must be financially stable before getting married and it is my prayer that I will be financially okay before getting married.
How many wives do you intend to marry when that time comes?
Only one. I am not a polygamous type. It is a personal decision.'
What can other young Nigerians, especially the unemployed, learn from your experience?
I would rather advise my fellow youths to remain focused and positively engage themselves instead of engaging in shady deals. They should also be prayerful. I will also advise the various governments in Nigeria to establish skills acquisition and research centres where youths can be positively engaged to learn or improve their skills. This will assist the youths to make positive contributions to society.
Culled from Punch
Leave a Reply
Your email address will not be published. Required fields are marked *