Insecurity: Allow Nigerians buy ak-47, Katsina gov begs FG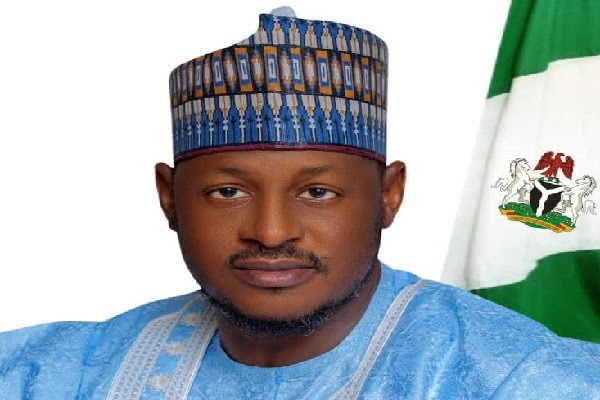 Military winning war against terrorists, oil thieves, says DHQ
Troops seize six million liters of stolen crude, destroy 56 illegal refineries in one week
Army arrest eight suspected cultists in Bayelsa; rescue kidnap victim in Edo
'Military graduates ready to fight terrorists, bandits, others'
Katsina State Governor Dikko Umar Radda yesterday made a case for Nigerians to be allowed to carry AK-47 and rocket-propelled grenade (RPG) to protect themselves from terrorists and other criminals.
He wondered why the generality of the people are denied that right when hoodlums have free access to the deadly weapons.
"If a bandit can go to the market and buy AK-47, RPG, and all of those weapons, what of the people that want to protect themselves? They too should equally be allowed to do so. These people are holding it illegally, we are trying to hold it legally. Why can't the government allow the people to hold this thing and equally confront the challenges?"Ridda told reporters in Abuja on a day the military insisted they were winning the war against terrorists and oil thieves.
The Defence Headquarters said in the last one week alone,troops of Operation Delta Safe (OPDS) seized 6,009,500 litres of stolen crude oil, 425,715 litres of illegally refined diseil, 38,100 litres of kerosene and 4,500 litres of petrol in the Niger Delta.
"We must protect ourselves. It is even against our religious belief to allow someone to just come and kill us and take our property just like that. We have to put efforts to protect ourselves and that is the aim of the government," he said.
The governor who recently inaugurated 1500-strong Community Watch Corps in the state to combat terrorism vowed to give the war whatever it would take.
He told reporters how some people have even been threatening his life and declared that such threats would not deter him.
He said:"I have told you before, I will only die once not twice and it is only a coward who will sit back and allow someone to kill him.
"I will not go begging bandits to come for negotiations. It is so disheartening and demoralizing."
"When you are negotiating with bandits it is a sign of weakness for me. Let us deal with the situation, if they are weak, let them come out, let us negotiate and we will reintegrate them back into society.
"They are our people, our brothers, but we cannot protect a criminal. A criminal is a criminal regardless of his religion or ethnicity. This country has gone beyond the level of sentiments. It is unfortunate when you hear people saying all sorts of things because it is not their brothers that were killed, my brother by the same father and mother was killed by these bandits. So nobody can drag me into sentiments, we are beyond that. And my determination to drive this thing is 100 per cent and I will do it and I don't mind the consequences because God is with us."
He said some traditional rulers in the state were under probe over their alleged "romance" with bandits, stressing that whoever found to be a sponsor or ally of bandits would not be spared no matter how highly placed.
Military winning war against terrorists, oil thieves, says DHQ
However,the Defence Headquarters said that its troops were winning the war against terrorists and oil thieves, as they have killed and captured the criminals' leaders and facilitators in several operations across the country.
It said troops operations have also denied terrorists, insurgents and oil thieves safe havens, by destroying their command and control centres and training facilities.
The Director of Defence Media Operations, Maj. Gen. Edward Buba, said in a statement yesterday that "accordingly, the insurgents and terrorist are in perpetual mourning as they constantly bury their dead and would continue to do so.
"Our communities across the country have risen to the occasion in exposing these elements and it is making a tremendous impact on operations as they no longer have a hiding place.
"The actions and activities of the armed forces in the ongoing counter insurgency and counter terrorist operations are integral to the plan of focussing military pressure on these terrorist and extremist to cause them to submission.
"The operations are yielding desired results ranging from denying safe havens to these groups, to the destruction of their command and control facilities as well as training facilities."
The DHQ also said troops of Operation Delta Safe (OPDS) have seized 6,009,500 litres of stolen crude oil, 425,715 litres of illegally refined diseil, 38,100 litres of kerosene and 4,500 litres of petrol in the last one week.
Besides,the troops destroyed 56 illegal refining sites,234 cooking ovens, and arrested 19 oil thieves.
Giving further updates on troops operations in other parts of the country, the Defence spokesperson said troops killed 37 terrorists, attested 95 others and rescued 53 kidnap victims while troops recovered 100 assorted weapons, comprising 45 AK47 rifles, 11 locally fabricated AK47 rifles, six pump action guns, 12 dane guns, two AK47 rifles, two locally made guns, two locally fabricated pistols, and two locally made revolvers.
He said: Troops of Operation HADIN KAI in North East Nigeria killed 20 terrorists, arrested 57 and rescued 16 kidnap victims.
"The troops also recovered 13 AK47 rifles, five dane guns, four magazines, and two fabricated guns, among other items."
On operations in the North Central, Buba said troops of Operation SAFE HAVEN and Operation WHIRL STROKE killed five terrorists, arrest 59 and rescued 29 kidnap victims.
He said the troops also recovered five AK47 rifles, one dane gun, and other items.
Military graduates battle ready troops to fight terrorists, bandits, others
The Nigerian Army yesterday graduated a set of "battle ready" troops to further prosecute the war against terrorists, bandits and other criminal elements across the country.
The troops have just completed 16 months of military training at the Army Training Centre, Kachia in Kaduna state.
Army spokesperson, Brig.-Gen. Onyema Nwachukwu, said the training was to adapt personnel who freshly passed out of Depot Nigerian Army to the challenges posed by the ever-changing nature of threats within Nigeria's security environment."
Army raids cultists camp in Bayelsa, arrest eight
The Nigerian Army says its troops under, EXERCISE STILL WATERS III, a military exercise against oil theft and cultism in the South South region, have arrested eight suspected cultists in Bayelsa State.
The suspected cultists were arrested during a raid in their camp within Oloibiri oil field, at Otuabagi community in Ogbia Local Government Area of the state.
Army spokesperson, Brig.-Gen. Onyema Nwachukwu, confirmed that the troops also recovered from the cultists, one Baretta pistol, one locally made double barrel pistol, five rounds of 9mm ammunition, three live cartridges, one Baofeng communication radio, one binocular, two mobile phones and a substance suspected to be cannabis," he said.
Nwachukwu also said troops under the same exercise in Edo State arrested two members of a kidnap gang and rescued one kidnap victim, Miss Blessing Uwenze, during an operation at Obagie community in Ikpoba Okha Local Government Area of the state.
Culled from TheNation
Leave a Reply
Your email address will not be published. Required fields are marked *