Governor Radda Unveils Twin Court Chambers and Advocates for Enhanced Judiciary in Katsina State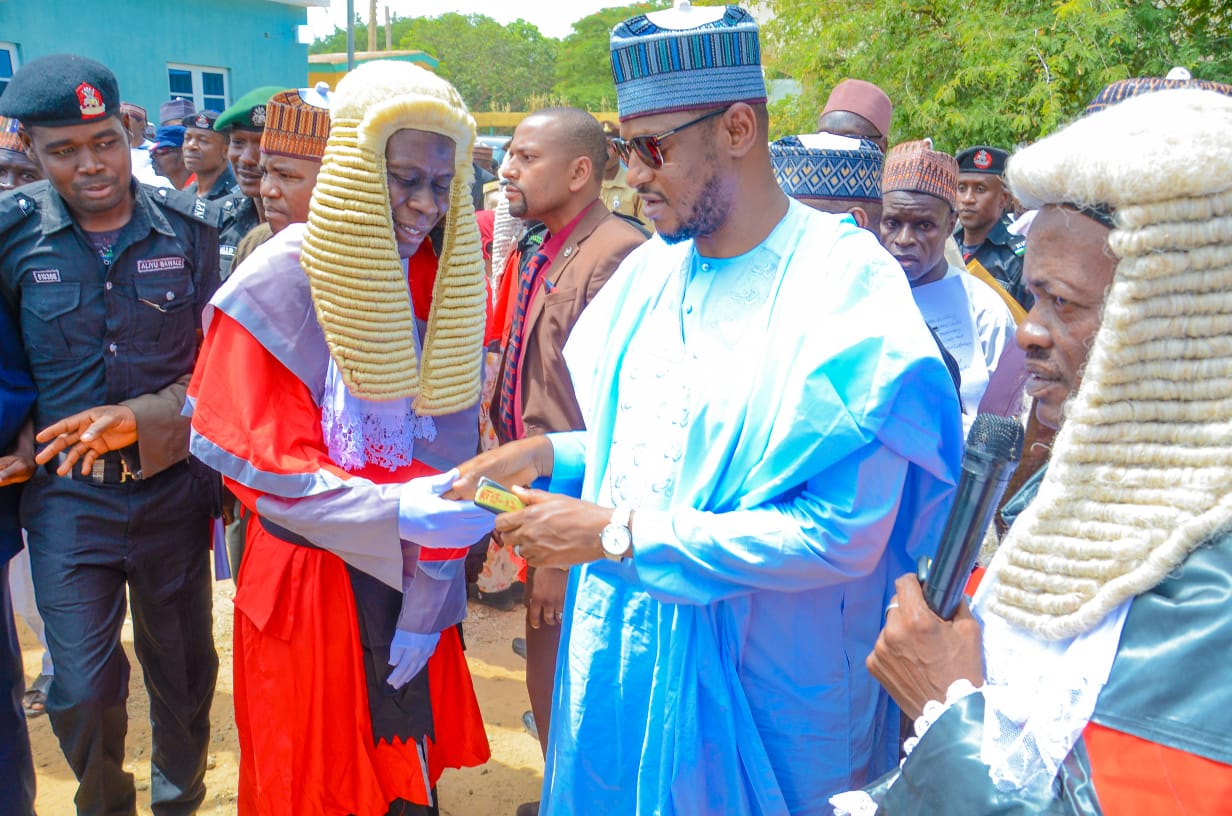 In a momentous event heralding the commencement of the 2023/24 legal year in Katsina State, Governor Dikko Umaru Radda took center stage on Monday as he officially inaugurated newly-constructed twin court chambers for the State's High Court judges. The grand ceremony unfolded at the Headquarters of the Katsina State High Court of Justice.
Named in honor of Justice Amiru Sanusi, the newly minted court complex wasn't the sole highlight of the day. Governor Radda's generosity extended further as he presented six brand-new Toyota jeeps to the four recently-sworn-in judges of the Katsina High Court, along with two Khadis of the State's Shariah Court of Appeal.
In his address, Governor Radda underscored the pivotal role of the judiciary, emphasizing the need for it to collaborate with the executive and legislative branches in ensuring that criminals face appropriate consequences for their offenses.
He acknowledged and appreciated the Katsina High Court's proactive response to security challenges in the State by establishing Community and Conflict Resolution Centers across the region. This initiative aligns seamlessly with the administration's policy of addressing the longstanding security concerns that have plagued Katsina and the entire North West region.
Governor Radda also touched upon recent amendments to the State Local Government Law, which now mandate the establishment of Dispute and Conflict Resolution Centers at major markets in all 34 local government areas. This move is aimed at streamlining the legal process, allowing security agencies and courts to address more serious and demanding cases effectively.
Furthermore, the Governor called upon all stakeholders in Katsina's justice sector to provide unwavering support and legal backing to the recently-inaugurated State Community Watch Corps to enhance its operational effectiveness, stressing the importance of an independent judiciary in fulfilling its constitutional role.
Adding her perspective to the gathering, the State's Attorney General and Commissioner for Justice, Barrister Fadila Mohammed Dikko, highlighted the accomplishments of the past legal year. The Public Prosecution Department of their Ministry meticulously handled 533 case dairies that were submitted for legal advice. This diligent effort resulted in 48 judgments being passed at the State High Court, accompanied by 23 others at the appellate courts.
Bar. Dikko expressed gratitude to Governor Radda for granting approval to their Ministry to recruit additional state counsel and organize capacity-building training, a move that will undoubtedly bolster their ability to serve justice more effectively.
Leave a Reply
Your email address will not be published. Required fields are marked *
canadian pharcharmy online
It's great that you are getting ideas from this article as well as from our argument made at this time.