Alh.Bello Maitama Yusuf: A Distinguished Northern Elder is Gone - Governor Radda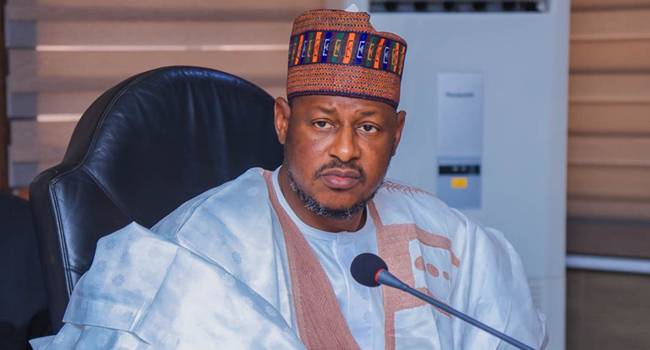 Governor Dikko Umaru Radda of Katsina State has expressed deep shock over the demise of Alhaji Bello Maitama Yusuf.
"It is with rude shock and utter grief I mourn the painful exit of Alh. Bello Maitama Yusuf. Indeed, the North has just lost one of its few accomplished leaders left. We have lost a Northern elder who was loved and venerated by many," he said.
Yusuf, a former Minister of Commerce and Natural Resources under Alhaji Shehu Shagari-led NPN Government between 1979 and 1983, died early Friday, in Kano State.
The deceased, who has since been buried according to Islamic rites, was also a former Senator from 1999 and 2007. He was 76 years-old.
According to Governor Radda, the entire North has lost an illustrious elderstatesman and a revered public figure in Alh.Bello Maitama Yusuf.
In a statement issued by his spokesperson, Ibrahim Kaula Mohammed, the Katsina State Governor, observed that the ranks of influential and Northern leaders have been further depleted with the demise of the ex-Commerce and Natural Resources Minister, who was the Sardaunan Dutse until his death.
Radda said that as a Minister in the Shagari government, the late Sardaunan Dutse helped create an enabling environment for many industries and business firms to thrive, with a view to boosting the country's Gross Domestic Product (GDP).
"To his credit, the federal government of late President Shehu Shagari, with Alh. Bello Maitama Yusuf as its Commerce and Natural Resources Minister, recorded impressive strides with regards to attracting Foreign Direct Investments for Nigeria.
"The late Sardaunan Dutse is one rare traditional titleholder, that is widely respected not only in the North, but across the country. His iconic personality alone attracted fame, glamour, prestige and honour to the Dutse Emirate," said Governor Radda.
He urged the family of late Maitama Yusuf, together with the people and government of Jigawa State to be consoled that the deceased impacted humanity in many ways, during his lifetime. "Insha Allahu, the luxurious Jannatul Firdaus will be the permanent abode of Sardaunan Dutse".
Signed:
Ibrahim Kaula Mohammed,
CPS to Katsina Governor.
October 14th, 2023.
Leave a Reply
Your email address will not be published. Required fields are marked *