Lack Of Media Support For Air Force Endangers National Security – Air Chief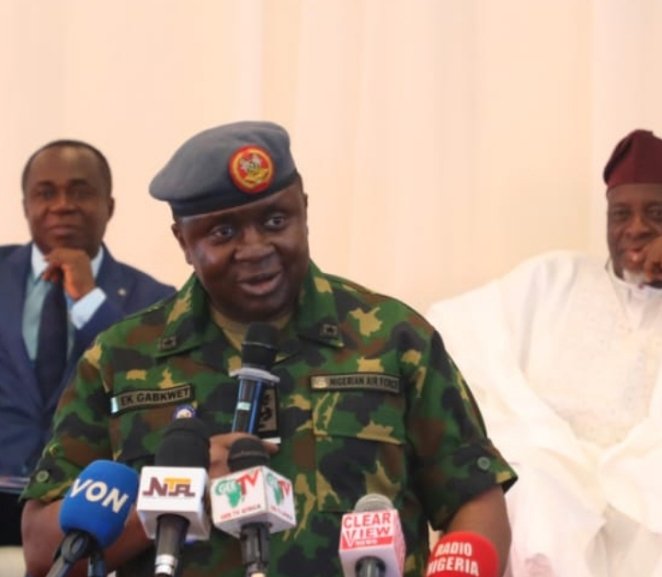 The Chief of the Air Staff (CAS), Air Marshal Hasan Bala Abubakar, has complained that the lack of empathy and support for the Air Force by both the new and traditional media is dangerous to the national security.
More dangerous, he said, is the misuse of the social media on matters that bordered on security.
The Air Chief spoke at the 7th Conference of the Guild of Corporate Online Publishers (GOCOP) in Abuja.
He said: "Social media, which incidentally has become the medium of choice for online publishers, is now an avenue where fake news thrives and information is weaponized, hence the need to guard against such through stringent measures to erring publishers."
Represented by the Director of Public Relations and Information of the Nigerian Air Force (NAF), Air Commodore Edward Gabkwet, Air Marshal Abubakar commended GOCOP for choosing the theme of the Conference: "Roadmap for socio-economic recovery and sustainability."
According to him, the theme can be achieved only when investors are convinced that the security of lives and properties are assured.
The Air Chief buttressed his point by quoting Peter Singer and Emerson Brooking in their book: "LikeWar: The Weaponization of the Social Media," that, "Social media has created a new environment for conflict as it has transformed the speed, spread, and accessibility of information, thereby changing the very nature of secrecy. Yet, while the truth is more widely available, it can be buried in a sea of "likes" and lies."
Air Marshal Hasan Bala Abubakar described online publishers as critical elements in the fight against all forms of criminality in Nigeria by virtue of their advantage of reach, penetration, speed and resilience narrated his philosophy and developmental plans for the NAF.
Leave a Reply
Your email address will not be published. Required fields are marked *