Saudi experts start work separating conjoined Tanzanian twins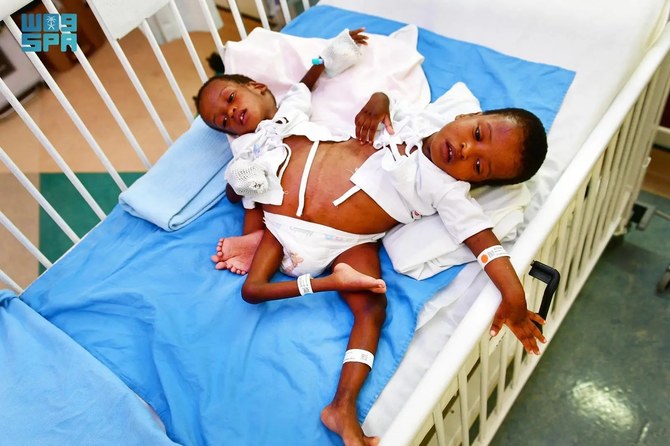 RIYADH: A complex operation to separate conjoined Tanzanian twins started Thursday in Riyadh, the Saudi Press Agency reported.
The operation, which follows directives from King Salman and Crown Prince Mohammed bin Salman, is being carried out under the supervision of KSrelief chief Dr. Abdullah Al-Rabeeah.
A medical and surgical team will separate the two-year-olds Hassan and Hussien at King Abdullah Specialist Children's Hospital in the King Abdulaziz Medical City at the Ministry of National Guard in Riyadh.
Al-Rabeeah said in a statement that the operation is expected to last 16 hours over nine stages, with 35 consultants, specialists, and technical, nursing and support staff taking part.
He said the twins arrived from Dar es Salaam in August for a series of medical examinations, which showed that they are conjoined at the lower chest, abdomen, pelvis, liver, urinary tract, intestines and one reproductive organ.
Al-Rabeeah thanked King Salman and Crown Prince Mohammed bin Salman for their support of the Saudi conjoined twins separation program.
Since its launch in 1990, the scheme has operated on 58 twins from countries around the world.
culled from Arab News
Leave a Reply
Your email address will not be published. Required fields are marked *