China-Syria strategic partnership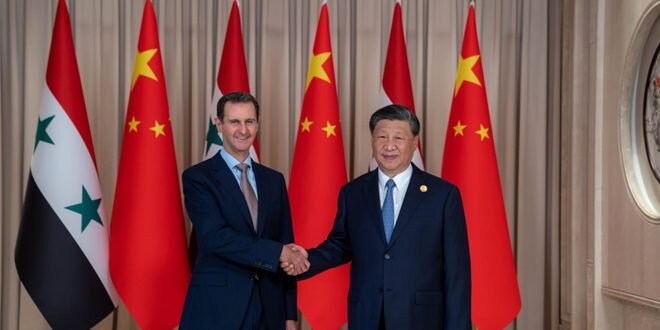 TEHRAN- Syrian President Bashar al-Assad's visit to China has important signs attached to it, the most prominent of which is Beijing providing support for President al-Assad and challenging the United States-led Western attempt to isolate the Syrian government with unilateral sanctions.
Chinese President Xi Jinping told al-Assad that "China opposes interference by external forces in Syria's internal affairs... and urges all relevant countries to lift illegal unilateral sanctions against Syria."
In line with this aspect, China is prepared to thwart the "illegal" sanctions regime.
According to the Chinese news agency Xinhua, the two leaders jointly announced the establishment of the "China-Syria strategic partnership".
In Chinese diplomacy, a "strategic partnership" entails closer coordination on regional and international affairs, including in the military field.
The Syrian president visited China in response to an official invitation from his Chinese counterpart to hold talks with the country's senior officials.
This is the second trip to China since President al-Assad took office. He held meetings with President Xi and other Chinese leaders, where they discussed in-depth bilateral relations and issues of mutual interest.
China is the third non-Arab country that al-Assad has traveled to since the outbreak of the conflict in Syria in 2011, after Russia and Iran.
President al-Assad's visit to Beijing comes at a time when the region is witnessing major changes following the Saudi-Iranian rapprochement brokered by China.
It also comes as Syria has restored diplomatic ties with many Arab states, in particular Saudi Arabia, which saw Syria regaining its seat in the Arab League after being suspended as a member since 2011, along with President al-Assad's attendance at the summit in Jeddah in May.
The visit also comes amid rising tension in American-Chinese relations, and increased competition between the two largest economies in the world over West Asia, which has become of great importance to international parties, especially after the Ukraine war.
If al-Assad's trip to China was economically motivated for a war-torn country, then what was China's goal in inviting President al-Assad?
In other words, what does Beijing want from Damascus?
In recent years, China has become strongly involved in West Asia, as American influence in the region is declining.
Today, China wants to play a greater role in Syria economically and politically.
All signs indicate that Beijing wants Syria to return to its pre-war status before 2011. A prosperous Syria, where business hubs like the city of Aleppo, attracted investors and traders from the region and beyond.
"We believe that President Bashar al-Assad's visit will further deepen the mutual political trust and cooperation in various fields between the two countries and take bilateral relations to new heights," a Chinese foreign ministry spokesperson said.
"Syria is one of the first Arab countries to establish diplomatic relations with the People's Republic of China and one of the co-sponsors of the UN General Assembly resolution that restored China's lawful seat in the UN," the spokesperson added.
Since the establishment of China-Syria diplomatic ties 67 years ago, China-Syria relations have maintained sound and steady growth, and it looks like Beijing wants to keep it that way.
Since the beginning of the war on Syria, China has not been militarily involved in the conflict. Rather, it has provided financial and political support to the Syrian government, sending humanitarian aid during the outbreak of the coronavirus, and after the devastating earthquake that struck Turkey and Syria in February.
At political level, Beijing repeatedly abstained from voting on resolutions that it viewed as interference in Syria's internal affairs, using its veto power at the UN Security Council, and repeatedly demanded the removal of the unilateral sanctions on Damascus, while accusing the U.S. of stealing 82% of Syrian oil.
China played a role in Syria's return to the Arab fold, as the Syrian government was on the agenda in the discussions held by the Chinese President during his visit to Saudi Arabia.
Likewise, Syria was part of the discussions that President Xi held with his Iranian counterpart, Ebrahim Raisi, when the latter visited China at the end of February.
Also, the Chinese Special Envoy for the Middle East Zhai Jun visited Syria this year and after meeting with Assad, he expressed Beijing's readiness to continue playing a constructive role in improving Syria's relationship with Arab countries.
Regarding the crisis in Syria, Beijing presented proposals to resolve it, including in 2021 when Chinese Foreign Minister Wang Yi visited Damascus and presented a four-point proposal to resolve the Syrian issue.
The proposal is based on respecting Syria's sovereignty and territorial integrity, respecting the choice of the Syrian people, accelerating the reconstruction process, lifting sanctions and combating terrorism, finding a political solution to the crisis and resolving the dispute between Syrian factions through consultation and dialogue.
Essentially, it was a very strategic meeting between China and Syria, particularly as Beijing is ignoring the sanctions imposed on Syria by the United States and the European Union as well as the violation of Syrian territory by America, Turkey and Israel.
President Xi has sent a very clear message to the U.S., Israel, and Turkey over their violations of the Syrian territory.
When calling for the lifting of sanctions on Syria, analysts believe Beijing will challenge the sanctions.
China certainly has the capability of bringing a lot of prosperity to Syria willingly.
President al-Assad carries a great level of symbolic weight in West Asia as he has survived more than ten years of war unscathed. President Xi has also proven to be a very intelligent leader while portraying a remarkable level of awareness on strategic diplomatic matters.
There was a time when the United States used its influence to play a key role in how events unfolded in West Asia. Washington arranged the meetings and chose who to invite and what divisions to stoke between neighboring states in the region.
As America loses its influence as a result of its disastrously hawkish foreign policy in West Asia, today regional states have turned to more bilateral talks, with regional and international players especially China now playing a constructive role in bringing peace and prosperity.
Beijing is taking on a role in West Asia that it has never taken on before. Historically, China never brought countries that were once adversaries, such as Iran and Saudi Arabia, against the wishes of the United States.
Perhaps what attracts nations from the Global South in West Asia toward China is Beijing's ability to intervene in regions without imposing its policies, something that the United States has been exercising in Syria, Iraq, Saudi Arabia to Afghanistan and many other states over the past decades.
What is significant about Syria is its stance against any form of normalization with Israel and its embracement toward the axis of resistance against the apartheid Tel Aviv regime. Syria also hosts Russian naval forces, the only base Moscow has in the Mediterranean.
All these factors are difficult to ignore. China has taken into consideration all these issues and has militarily coordinated with Russia and Iran, two countries that have a presence in Syria and continue to defend the nation against Takfiri terrorism.
For China to step in now with a red-carpet invitation for President al-Assad, it will be viewed as a direct challenge to U.S. policies in Syria.
Where once, the U.S. called the shots, today, Washington finds itself being excluded and more isolated from regional developments.
culled from Tehran Times
Leave a Reply
Your email address will not be published. Required fields are marked *