Iranian and Egyptian FMs hold 'fruitful' talks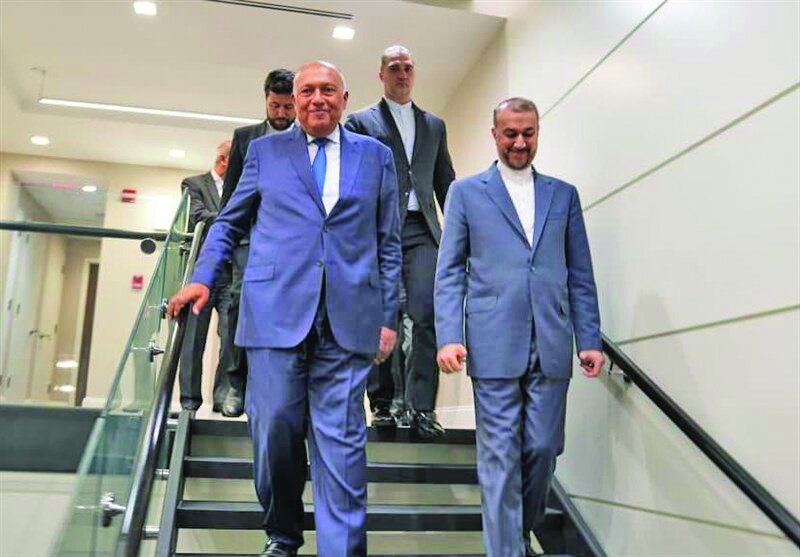 TEHRAN – Iran's foreign minister has described as "positive and fruitful" a Wednesday meeting with his Egyptian counterpart Sameh Shoukry on the sidelines of the annual session of the United Nations General Assembly in New York.
Hossein Amir Abdollahian stressed the need to pave the way for the fulfillment of mutual interests through constant dialogue among the officials of the two nations.
They also emphasized that stronger relations and cooperation between Iran and Egypt will benefit both nations and also have positive implications for the region.
Also on Thursday, Iran's President Ebrahim Raisi said the meeting between the two foreign ministers could usher in "a new chapter to start and revive relations" between the two countries.
Iran and Egypt have experienced four decades of frosty ties as they have had the lowest level of diplomatic ties since 1980.
In March, Egypt decided to allow Iranians who wish to visit South Sinai through a certified tourist agency to obtain a visa upon arrival.
Amir Abdollahian has so far met with several other counterparts as well as the Secretary-General of the Persian Gulf Cooperation Council and the UN General Assembly president.
Iran, Djibouti to restore diplomatic ties
Iran and Djibouti have decided to restore diplomatic relations after a meeting between the two countries' foreign ministers.
During the meeting on Thursday, Iran's foreign minister told Mahamoud Ali Youssouf that Iran would like to see a thaw in relations with Djibouti as it seeks to expand ties with Muslim countries
"We have always witnessed very good developments in relations between Iran and Djibouti over many years and there are different areas based on which we can cooperate," said the Iranian official.
He added that Iran is willing to share its capabilities in technological and scientific fields as it sees Djibouti as a "friendly" and "brotherly" nation. "We can establish robust ties and expand our cooperation in all areas," said the Iranian foreign minister.
The Djiboutian foreign minister, for his part, declared his country's readiness to strengthen constructive ties with Tehran. He reaffirmed his Iranian counterpart's remarks, calling solidarity among Muslim nations important and necessary.
Also, Amir Abdollahian and Youssouf reportedly discussed regional and international issues. They voiced their support towards the Palestinian nation and the Palestinian cause as well.
The tiny Horn of Africa nation cut ties with Tehran in 2016 "in solidarity with Saudi Arabia". The move came after Saudi Arabia severed diplomatic relations with Iran after a group of protesters raided its embassy in Tehran. The action was incentivized by Riyadh's execution of a prominent Shiite cleric named Sheikh Nimr al-Nimr and dozens of others.
Sudan and Comoros which had made similar decisions in 2016 and called back their diplomats from Tehran, also restored ties with Iran after a reconciliation deal between Tehran and Riyadh in March of 2023.
Iran lauds Qatar's "constructive" role in prisoner swap with U.S.
During his meeting with Qatar's foreign minister on Thursday, the top Iranian diplomat also thanked the Persian Gulf country for mediating a prisoner swap deal between Iran and the United States. He praised Doha for its "constructive" rule and stressed that the two countries should strengthen cooperation in regional and international fields.
For his part, Sheikh Mohammad bin Abdul Rahman Al Thani said Qatar is ready to play similar roles and help Iran secure the two countries' mutual interests. He said Iranian and Qatari officials should also hold inclusive negotiations in Tehran or Doha.
Iran respects any political decisions by the Lebanese
Talking to his Lebanese counterpart Abdullah Buhabib, Amir Abdollahian also pointed to the latest state of the political process in Lebanon saying Iran will not hesitate to help with the political process based on any decision that the Lebanese adopt.
He also reiterated Tehran's support for the resistance movement in Lebanon. He also stressed the significant role of Palestinian resistance groups in the face of Israeli threats and seditions as well.
The Lebanese top diplomat referred to the latest developments in Lebanon and appreciated Iran's constructive support for his country.
Iran's support towards Syria will not taper off
On Thursday, while meeting with Syria's newly-appointed Deputy Foreign Minister Bassam al-Sabbagh, Iran's top diplomat also declared that "consultations and cooperation between Iran and Syria are continuing at the highest level."
Iran will continue its principled policies in supporting the Syrian government and nation in the international arena, including at the United Nations, he said
Bassam al-Sabbagh, in turn, slammed U.S. sanctions against Syria, calling them a big source of misery for the Syrian people.
He also expressed his satisfaction with the cooperation between Iran and Syria in international forums, including the UN, while warning that some countries are trying to use the body to their own benefit. "Unfortunately, some Western countries take advantage of international forums and mechanisms for their own political goals," said the Syrian official.
Various issues and developments in the Arab country were also discussed at the meeting.
Developing countries should feel heard at international bodies
During a meeting with the President of the United Nations General Assembly Dennis Francis on Thursday, Iran's foreign minister also said the UN is a place where all governments should be able to speak out and have an influential role.
"Today, it's an important fact that countries pay attention to multilateralism and you have a key role within this framework. In this context, it is very important that the developing countries feel that their voice is heard at the UN General Assembly," stressed Amir Abdollahian.
Elsewhere in his remarks, the Iranian official highlighted that Tehran does not see war as a solution to conflicts and believes that every problem should be resolved through dialogue.
"We do not think war is a solution in Ukraine. Also, the fate of the original Palestinian nation is important to us, and we believe that the UN, as an authority for peace and security, should pay special attention to the Palestinian people's rights," he emphasized.
The UN official, for his part, said the organization would try to reconstruct solidarity and trust in the UN General Assembly and help resolve international issues, though it knows it will not be an easy task.
Iran's foreign minister also held meetings with his counterparts from Singapore, Malta, Indonesia, the UAE and Switzerland, discussing various bilateral, regional, and international issues.
culled from Tehran Times
Leave a Reply
Your email address will not be published. Required fields are marked *