Maryanne Trump Barry, Donald Trump's elder sister, dies at 86: Report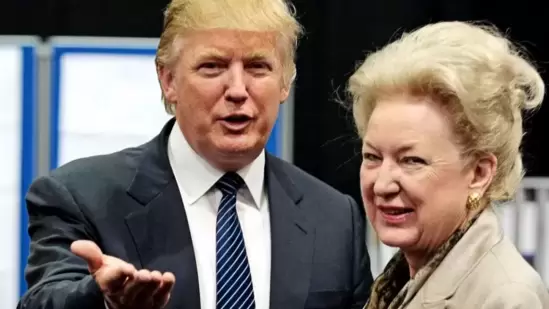 Former US president Donald Trump's sister was discovered dead in her Upper East Side apartment, the New York Times reported, citing two unnamed people familiar with the matter. Maryanne Trump Barry, 86, was found inside her Fifth Avenue apartment at around 4 a.m. She was discovered in her bedroom and was pronounced dead at the scene.
The Medical Examiner will determine her cause of death. Although, there were no signs of trauma, reports claimed. Maryanne Trump Barry is a retired federal judge.
We're now on WhatsApp. Click to join.
In 2020, Maryanne Trump Barry said that her brother is a liar who "has no principles" as per secret recordings. The critical remarks were recorded by her niece, Mary Trump, who published a book excoriating the president.
Read more: Joe Biden's granddaughter's car break-in: Secret service agents did this
"His goddamned tweet and lying, oh my God. It's the phoniness and this cruelty," Maryanne Trump Barry was heard saying. She also criticised the Trump administration's immigration policy, saying, "All he wants to do is appeal to his base."
To the comments, Donald Trump responded saying, "Every day it's something else, who cares."
Maryanne Trump had always been supportive of Donald Trump and had previously said the two were close. She once told the story of how he had visited her every day she was in hospital following an operation.
"Once would have been enough - the duty call. That's how love shows, when you go that extra yard," she said. I "knew better even as a child than to even attempt to compete with Donald." she continued.
culled from Hindustan Times
Leave a Reply
Your email address will not be published. Required fields are marked *