Eight pro-Iran fighters dead in US strikes in Syria: Monitor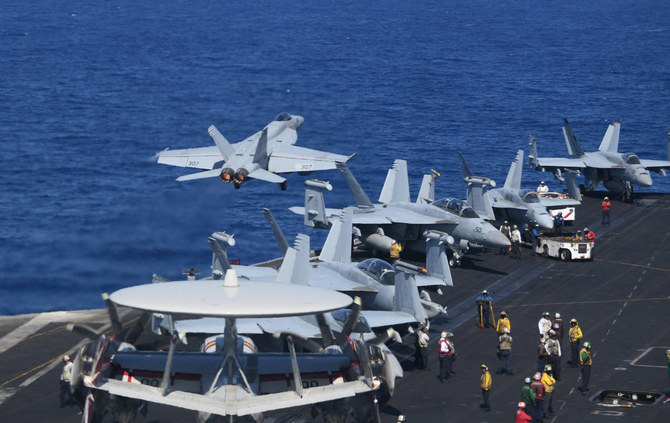 Strikes late Sunday hit Mayadeen and Albu Kamal areas of Syria's eastern Deir Ezzor province
WASHINGTON/BEIRUT: At least eight pro-Iran fighters were killed in US strikes on eastern Syria, a war monitor said Monday, after Washington announced the raids a day earlier in response to attacks on American forces.
The toll is "eight pro-Iran fighters dead, including at least one Syrian, and Iraqi nationals," the Syrian Observatory for Human Rights said, following the strikes late Sunday on the Mayadeen and Albu Kamal areas of Syria's eastern Deir Ezzor province.
It is the third time in less than three weeks that the US military has targeted locations in Syria it said were tied to Iran, which supports various armed groups that Washington blames for a spike in attacks on its forces in the Middle East.
"US military forces conducted precision strikes today on facilities in eastern Syria used by Iran's Islamic Revolutionary Guard Corps (IRGC) and Iran-affiliated groups in response to continued attacks against US personnel in Iraq and Syria," Defense Secretary Lloyd Austin said in a statement.
"The strikes were conducted against a training facility and a safe house near the cities of Albu Kamal and Mayadeen, respectively," he said.
The United States targeted a Tehran-linked weapons storage site in Syria on Wednesday, and also hit two facilities in the country on October 26 that it said were used by Iran and affiliated organizations.
Washington says the series of strikes is in response to repeated attacks on American forces in Iraq and Syria — more than 45 since October 17 — that have wounded dozens of US personnel.
The surge in attacks on US troops in recent weeks is linked to the war between Israel and Hamas, which began when the Palestinian militant group carried out a shock cross-border attack from Gaza on October 7 that Israeli officials say killed about 1,200 people.
Israel's military responded with a relentless air, land and naval assault on Gaza that the territory's health ministry said has killed more than 11,100 people — deaths that have sparked widespread anger in the Middle East, and criticism against Washington from Iran-backed groups.
There are roughly 2,500 American troops in Iraq and some 900 in Syria as part of efforts to prevent a resurgence of the Daesh group.
The militants once held significant territory in both countries but were pushed back by local ground forces supported by international air strikes in a bloody, multi-year conflict.
culled from Arab News
Leave a Reply
Your email address will not be published. Required fields are marked *