If Zionist regime's crimes continue, resistance forces cannot be stopped: Leader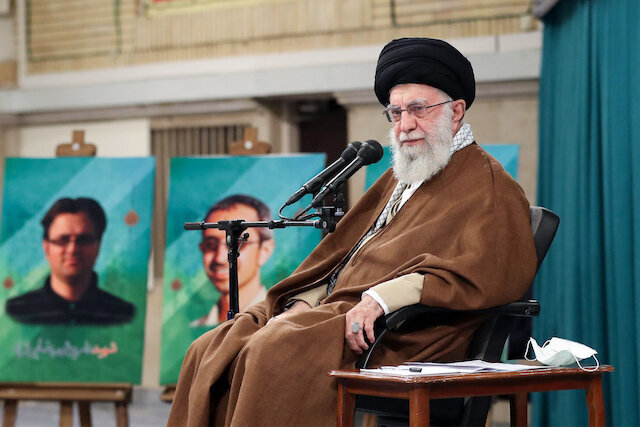 TEHRAN - The Leader of the Islamic Revolution on Tuesday described the current events in Palestine as a clear example of crime by the Zionist regime and an open "genocide" that is taking place before the eyes of the world.
Ayatollah Ali Khamenei made the remarks in a meeting with a group of academic elites and outstanding scientific talents.
Ayatollah Khamenei also said, "The officials of some countries have voiced their protest in their conversations with our officials as to why the Palestinians have been killing civilians. This statement is not true because the residents of the settlements are not civilians. They are armed, but even assuming that they are civilians, how many of them were killed compared to the number of Palestinian civilians that were martyred in recent days?"
According to the Khamenei.ir, the Leader added, "The usurper regime has killed a hundred times that number in these few days. They've killed several thousands of women, children, old and young civilians. By bombing populated centers and buildings that it knows are civilian residences, it is committing crimes before the entire world."
While emphasizing that the Zionist regime must certainly be prosecuted for these crimes, Ayatollah Khamenei held the U.S. government responsible for the policies of the Israeli regime, saying, "Based on various [sources of] information, the Americans are the policymakers and regulators of the current policies of the Zionist regime. The United States is responsible in this matter and must accept its responsibility."
Underlining that the bombing of the Gaza Strip should be stopped immediately, the Leader cited the protest rallies being held in Islamic countries and even non-Muslims in the U.S. and Europe as a sign of the serious fury of nations at the crimes taking place at the hands of the Zionist regime.
On the same note, Ayatollah Khamenei stated, "If these crimes continue, Muslims and the Resistance forces will lose their patience and no one will be able to stop them. They should know this and they should not expect others to stop certain groups from doing certain things."
"Whatever crimes the Zionist regime commits will fail to compensate for its disgraceful defeat during the Al-Aqsa Storm Operation," the Leader added.
In another part of his speech, he regarded the several million young Iranian graduates and students as a great and valuable fortune. "Many of these motivated, determined young people have valuable suggestions for solving problems."
Ayatollah Khamenei outlined that scientific activities have been taking place in some countries in the region after observing Iran's scientific progress. "Our previous progress should not make us proud and hold us back from the current scientific competition in the world. Despite all our progress, we are still behind in terms of knowledge and science," he stressed.
culled from Tehran Times
Leave a Reply
Your email address will not be published. Required fields are marked *