Israel pounds Gaza targets as Netanyahu condemns Hamas 'savagery'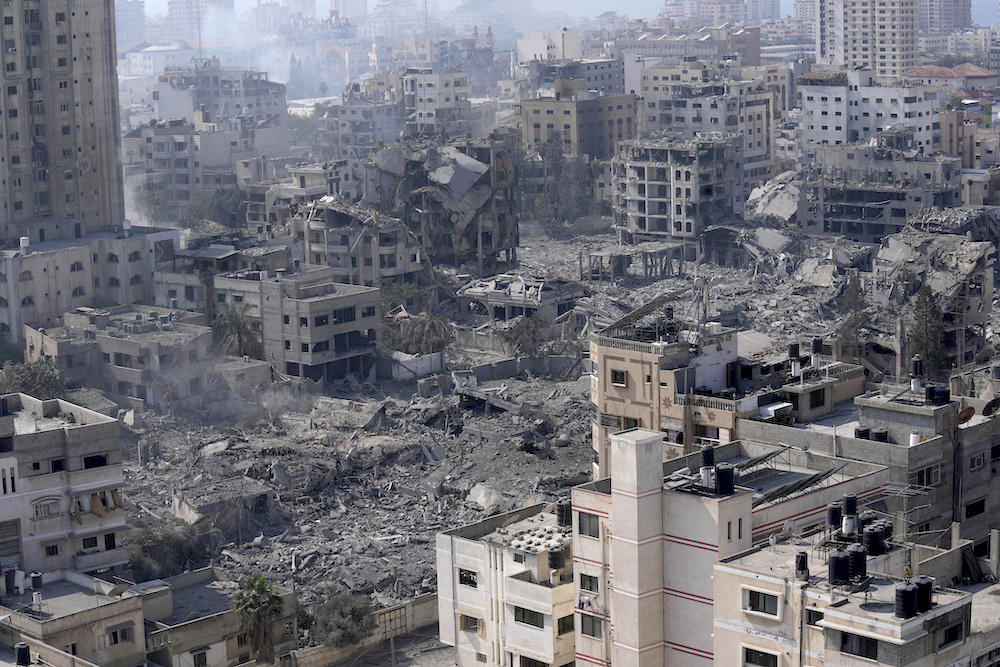 Israel has massed forces, tanks and other heavy armor around Gaza in its retaliatory operation
SDEROT, Israel: Israel kept pounding Hamas targets in Gaza, where entire city blocks lay in rubble Wednesday, as its soldiers sweeping battle-torn southern towns found more victims five days after the militants' onslaught.
The army said a "staggering 1,200" bodies had been discovered, mostly of unarmed civilians, while Gaza officials reported more than 1,000 people killed in Israel's withering campaign of air and artillery strikes on the crowded Palestinian enclave.
Israel has massed forces, tanks and other heavy armor around Gaza in its retaliatory operation against what Prime Minister Benjamin Netanyahu labelled "an attack whose savagery ... we have not seen since the Holocaust."
US President Joe Biden has pledged to send more munitions and military hardware to its close ally Israel and expressed revulsion at the "sheer evil" of the slaughter of civilians in the unprecedented assault Hamas unleashed from Saturday.
Fears have been intense in Israel for the fate of at least 150 hostages — mostly Israelis but also including foreign and dual nationals — being held in Gaza by Hamas.
The militant group has claimed that four of the captives died in Israeli strikes and has threatened to kill other hostages if civilian targets are bombed without advance warning from Israel.
Concern has mounted over the worsening humanitarian crisis in war-torn Gaza, where Israel had levelled over 1,000 buildings and imposed a total siege, cutting off water, food and energy supplies for 2.3 million people.
More than 260,000 Gaza residents have been forced from their homes, a UN aid agency said, while the European Union called for a "humanitarian corridor" to allow civilians to flee the enclave's fifth war in 15 years.
Israel appeared to be readying for a possible ground invasion of Gaza, but faces the threat of a multi-front war after also coming under rocket attack from militant groups in neighboring Lebanon and Syria.
Israel again struck targets Wednesday in southern Lebanon, an area controlled by Hezbollah, an ally of Israel's arch enemy Iran.
Israel has been badly shaken by the deadliest attack in its 75-year history and the intelligence failure that allowed more than 1,500 militants to storm through the Gaza security barrier in their coordinated land, air and sea attack on the Jewish Sabbath.
Hamas gunmen swept into small towns and kibbutzim and indiscriminately killed residents who hid in their homes or died defending their communities.
Israeli forces have retaken more than a dozen southern towns near Gaza after days of grueling street battles that have left the bodies of at least 1,500 Hamas militants strewn in the streets.
"We are discovering bodies of dead Israelis in the various communities that Hamas infiltrated and where they conducted their massacres," said army spokesman Jonathan Conricus.
"The death toll is a staggering 1,200 dead Israelis ... the overwhelming majority of them" civilians, he said, with the army later also reporting 169 fallen Israeli soldiers so far.
Troops have encountered and killed several holdout Hamas militants, said Israeli military spokesman Daniel Hagari, who told reporters Wednesday that "over the past day, we've killed 18 terrorists."
The Israeli army has called up 300,000 reservists for what Netanyahu has said will be a "long and difficult" war.
Heavy fighting raged again Wednesday in Gaza, where the sky was blackened after the air force launched hundreds more strikes overnight and Hamas said at least 30 people were killed.
Rubble, burnt out cars and broken glass covered roads in Gaza City, where bombs struck the Hamas-linked Islamic University. Also targeted were residential buildings, mosques, factories and shops, said Salama Marouf of the Gaza government's media office.
One Gaza resident, Mazen Mohammad, 38, said his terrified family had spent the night huddled together on the ground floor as explosions shook the area, before emerging in the morning to assess the total devastation of their neighborhood.
"We felt like we were in a ghost town, as if we were the only survivors," Mohammad said.
The Israeli army said fighter jets also destroyed a Hamas anti-aircraft detection system and 80 Hamas targets in the northern Beit Hanoun area, including two banks used to "fund terrorism."
Medical supplies, including oxygen, were running low at Gaza's overwhelmed Al-Shifa hospital, said emergency room physician Mohammed Ghonim.
Unrest has flared in the occupied West Bank, where 15 Palestinians have been killed since Saturday and protest have been held in solidarity with Gaza.
"My entire life, I have seen Israel kill us, confiscate our lands and arrest our children," said Ramallah coffee vendor Farah Al-Saadi, 52, who praised the Hamas assault.
Israeli cities have been eerily quiet and tense, with some residents noting a growing sense of fear and distrust between Jews and members of the Arab-Israeli minority.
"Israeli people are scared of the Arabs and the Arabs are scared of the Jews... everybody is scared of each other," said Ahmed Karkash, a shopkeeper in the Old City of Jerusalem.
culled from Arab News
Leave a Reply
Your email address will not be published. Required fields are marked *