PDP chieftain knocks Atiku's spokesmen for suggesting Wike, Fayose's expulsion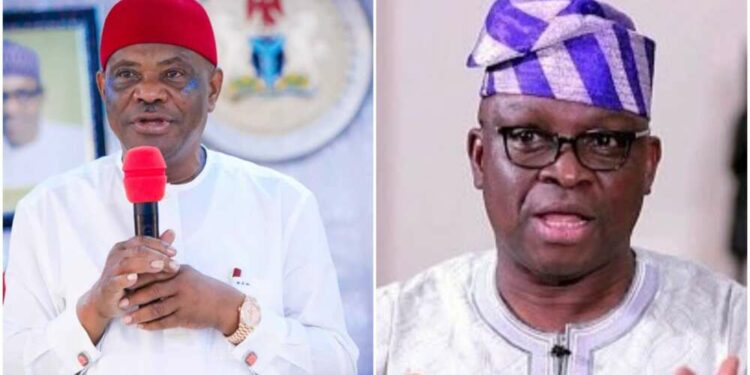 A chieftain of the People's Democratic Party (PDP), Lere Olayinka, has knocked the spokesmen of the 2023 presidential candidate of the party, Atiku Abubakar, over calls for the expulsion of the Minister of the Federal Capital Territory, Nyesom Wike, from the PDP.

Olayinka, who was the House of Representatives candidate for Ekiti Federal Constituency in the 2023 election, said in a statement made available to the Nigerian Tribune on Tuesday that the duo of Daniel Bwala and Pedro Obaseki were strangers who had no right to talk about genuine membership in the PDP.
He said, "I read Bwala's latest tweets, saying those calling for peace in the PDP and that the party should manage Wike was buying time for him (Wike) to continue his destructive agenda against the party. He went further to say that Wike has never been faithful or loyal to anyone.
"I also read the press statement by Pedro Obaseki saying that expelling Wike now was a task that must be done by the PDP.
"It is obvious that the more they disparage Wike and others like Ayo Fayose, who stood by the PDP when Atiku and others left in 2014, the more Atiku keeps footing their bills, including accommodation and feeding in one of the best hotels in Abuja."
The PDP chieftain, who described it as insulting that tenants in the PDP were now the ones calling for the expulsion of owners of the house, said, "I give them till January next year; these nomadic politicians who are feeding fat on Atiku's money will dump him for their next political victim."

Speaking further, Olayinka said one of the main reasons the PDP lost the presidential election was Atiku's alleged insulting and disrespectful treatment of those who held on to the PDP and gave life to the party when he left in 2014.
He said, "You left your father's house and joined outsiders to throw stones at the house while your other siblings stayed to fix the damages you and the outsiders caused to the house.
"Then, you returned a few years later to take the master bedroom and chose to send out your siblings, who remained in the house and shared rooms, to people with whom you threw stones at the house. Do you think God will let you sleep peacefully in that house?
"For us, the genuine lovers of the PDP, we will be here waiting for the food on the table of Atiku to finish. By then, these emergency lovers of the PDP will move on to their next victims, and the party will regain its life again."

Leave a Reply
Your email address will not be published. Required fields are marked *