Governor Radda to Receive Iconic Personality of the Year Award at Democracy Heroes Award Africa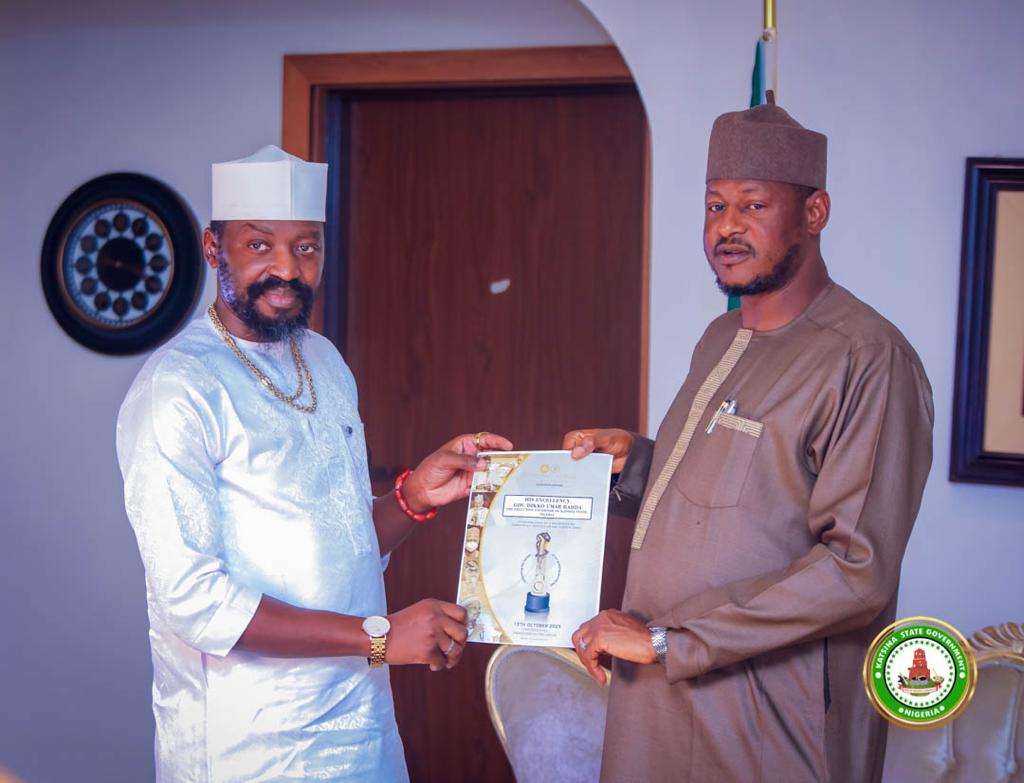 Democracy Heroes Award Africa Honours Governor Radda
Clinches Icon Personality of the Year Award
In a momentous announcement, Democracy Heroes Award Africa has bestowed one of its highest honours upon His Excellency, Malam Dikko Umaru Radda, the governor of Katsina State.
Governor Radda is set to receive the prestigious Democracy Heroes Award for the eleventh edition in 2023.
The confirmation of this remarkable recognition was marked by the presentation of a certificate, bearing the signature of Mr. Alexander Olufunsho Ajagbonna, (Fajag) Project Director, Face of Democracy, FDN.
This symbolic gesture took place at the Katsina State Governors lodge in Abuja on sunday, adding to the significance of Governor Radda's leadership journey.
The much-anticipated award ceremony, scheduled for October 16, 2023, will be held at the Transcorp Hilton Hotel in Abuja.
During this Gala event, Governor Radda will be honoured with the highly sought-after "Iconic Personality of the Year" award.
This accolade acknowledges his exceptional achievements within the first 100 days of his term in office.
Governor Radda's selection as the award recipient reflects the faith and admiration of the people.
He emerged as the people's choice through a transparent online voting process.
He secured a significant 32 per cent of the total votes cast, totaling an impressive 2,671 votes, surpassing his closest rival, Governor Abba Yusuf of Kano State, who received 2,168 votes. Dr. Alex Otti of Abia State followed with 1,145 votes, while Governor Hycinth Alia of Benue garnered 791 votes, and Governor Umo Bassey Eno of Akwa Ibom received 742 votes.
The award's organizers have emphasized that it recognizes Nigerian governors who achieved electoral victories through clear percentage wins in free and fair contests.
These leaders are distinguished by their innovative approaches to improving their states' economies.
The awardees are rigorously vetted to ensure fiscal responsibility and a commitment to serving the people, with a dedication to enhancing the quality of life and creating future opportunities for generations to come.
This award is a testament to Governor Radda's exemplary public service and his commitment to the well-being of the people he tirelessly serves.
The forthcoming award ceremony promises to be a momentous and grand affair.
Distinguished guests, political figures, and community leaders will gather to celebrate Governor Malam Umaru Dikko Radda and his exceptional contributions to Katsina State.
This recognition underscores the profound impact he has had on the lives of the citizens he represents, cementing his place as a true democracy hero.
Ibrahim Kaula Mohammed
Chief Press Secretary to the Governor of Katsina State.
16th October 2023
Leave a Reply
Your email address will not be published. Required fields are marked *