I was instrumental to Tinubu's victory – Emir of Daura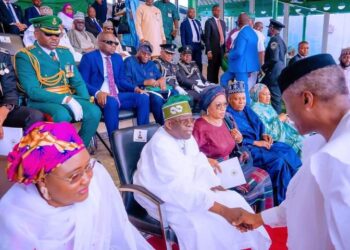 The Emir of Daura, Alhaji Umar Faruk Umar said he was instrumental to President Bola Ahmed Tinubu's nomination and victory in the 2023 general elections.
The Emir stated this when he received the All Progressives Congress (APC) national chairman, Alhaji Abdullahi Umar Ganduje, who led some party executives on a homage to the royal father's palace in Daura on Monday.
Alhaji Umar Faruk said he had foreseen the competence and good intentions of Tinubu and actively mobilised support for him at a time when other politicians were fighting his bid to succeed Muhammadu Buhari as President.
"I called Bola Ahmed Tinubu and summoned a key figure within Buhari's kitchen cabinet, including Mamma Daura and asked him to support Tinubu and work with other key party leaders to ensure his victory at the primary and general elections.
"After he emerged at the primary election I continued to mobilise support for him because I had faith in his capacity to deliver the Nigeria of our dreams.
"I am aware of the rumours being peddled by mischief makers trying to dismiss the support I and my people in Daura gave Tinubu in all stages of the campaigns and elections," he said.
Ganduje had earlier paid a visit to former President, Muhammadu Buhari at his country home in Daura where his team was received by the former President and his aides.
"We are here mainly to introduce the newly reconstituted National Working Committee members of our party to the former President, to pay homage to him, to thank him for what he did to this country during his eight years as President and to congratulate him on the occasion of Nigeria's Independence Anniversary," he said.
Culled from Blueprint Newspapers
Leave a Reply
Your email address will not be published. Required fields are marked *