Governor Radda to Oversee Food Distribution in Katsina LGAs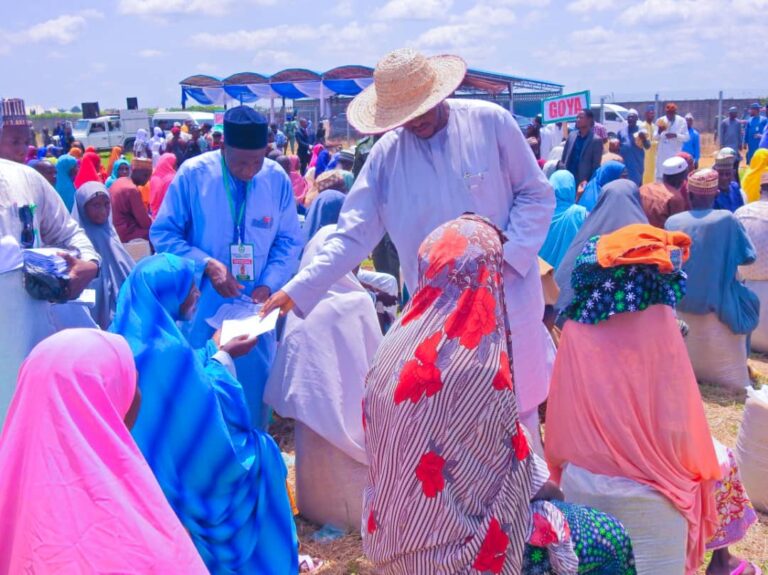 In a bid to ensure the equitable distribution of palliative materials, Katsina State Governor, Malam Dikko Umaru Radda, has announced the forthcoming inauguration of ad hoc committees tasked with overseeing the distribution of food items to local governments within the state. These materials aim to provide support to residents who have yet to receive essential assistance during these challenging times.
Governor Radda made this revelation during a recent event in Funtua where he launched the distribution of vital supplies, including over 2,000 bags of rice and consignments of fertilizer and water-pumping machines. These items were generously donated by Barrister Abubakar Muhammad, the Member representing the Funtua/Dandume Federal Constituency.
The distribution, which began in Funtua, is part of a broader effort by the Katsina State Government to reach residents in need across the state. Governor Radda assured the public that the distribution would soon extend to the remaining local governments, with Daura as the next focal point.
In planning this distribution, the State Government has meticulously identified specific groups as target beneficiaries. These include widows, divorcees who are caring for children, elderly men and women, and other individuals facing vulnerabilities in the state. Governor Radda stressed that the goal is to provide critical assistance to those who need it most.
To further alleviate the burden on beneficiaries, the individuals receiving the bags of rice will also be entitled to a N10,000 cash gift. Governor Radda emphasized the importance of fairness and impartiality in the distribution process, urging those entrusted with this responsibility to exercise diligence and transparency.
Acknowledging the significant contribution of Barrister Abubakar Muhammad, who supported 1,500 farmers from Funtua and Dandume with fertilizers and water-pumping machines, Governor Radda commended his commitment to boosting agricultural activities in the region. He also used the opportunity to encourage other lawmakers in Katsina State to emulate the generous gesture of the legislator representing the Funtua/Dandume federal constituency.
The State Government has taken proactive steps to facilitate the smooth distribution of these vital supplies. Vehicles have been provided to transport both the rice and the beneficiaries to their respective electoral wards, ensuring that the materials reach the intended recipients effectively.
In conclusion, the inauguration of ad hoc committees to oversee the distribution of food items across local governments in Katsina State demonstrates the government's commitment to supporting vulnerable residents during these challenging times. With transparency, fairness, and diligent execution, the state aims to provide essential relief to those who need it most, ultimately strengthening communities and fostering resilience.
Culled from ABC News
Leave a Reply
Your email address will not be published. Required fields are marked *
canadian prescriptions online
Hello! This is my first comment here so I just wanted to give a quick shout out and say I genuinely enjoy reading your blog posts. Can you suggest any other blogs/websites/forums that go over the same topics? Thanks!