Inland Dry Ports Crucial Facilitators Of Trade, Commerce – Comptroller Katsina Customs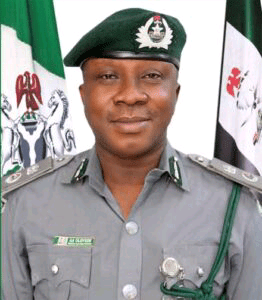 Comptroller of Katsina Area Command of the Nigeria Customs Service, Mohammed Abubakar Umar has observed that, Inland dry ports are crucial facilitators of trade and commerce which serves as pivotal hubs for regional economic development.
Comptroller Abubakar Umar noted that, the Inland Drug Ports are not only attracting investments but also create job opportunities and foster industrial growth adding that, "Businesses can leverage these dry ports to expand their reach, thereby boosting production, sales, and revenue generation."
Comptroller Umar who was speaking at the Funtua Inland Dry Ports sensitization programme organized by Shippers Council of Nigeria said the Funtua Inland Dry Ports, when operated efficiently, would unlock the economic potential of Nigeria and enable seamless trade with landlocked neighboring countries such as Niger and Chad Republics.
"These ports will grant importers and exporters from our nation's hinterland, particularly the Northwest region, access to shipping and port services without the need to be physically present at seaports," Comptroller Mohammed Abubakar Umar emphasized.
Furthermore, he said the Dry Ports would enable Nigeria to harness the benefits of the Africa Continental Free Trade Area (AfCFTA) and promote economic integration while curbing smuggling activities within the region.
He explained that, the Nigeria Customs Service, being a pivotal player in the nation's economy with primary responsibility of facilitating trade, has implemented numerous processes and procedures, including fiscal policy adjustments, rules of origin, and modernization initiatives, aimed at simplifying trade procedures.
Comptroller of Customs, Mohammed Abubakar Umar assured that, "We are fully committed to providing top-notch service to all our dry ports and stakeholders within the region."
He said "Now, let's delve into the critical role of Customs in the operation of dry ports. Customs officers are entrusted with a range of responsibilities, including: processing Customs declarations, Inspecting goods, assessing Customs duties and taxes, collecting Customs revenue, enforcing Customs laws and regulations ensuring security."
However, he disclosed that, Customs officers also collaborate closely with other stakeholders and sister agencies like the Standards Organization of Nigeria (SON), the National Drug Law Enforcement Agency (NDLEA), and the National Agency for Food and Drug Administration and Control (NAFDAC) to combat smuggling, uphold standards, and combat illegal activities at dry ports.
He announced that, under the visionary leadership of the acting Comptroller General of Customs, Bashir Adewale Adeniyi, Nigeria Customs Service has been committed to working hand-in-hand with all relevant stakeholders to ensure that the advantages offered by these inland dry ports in terms of improved trade, economic growth, and employment opportunities are fully realized by everyone.
Comptroller Abubakar Umar said with the recent enactment of the Nigeria Customs Service Act in 2023, the business community and stakeholders should expect more fruitful collaboration with their service, leading to positive growth in the Nation's economy.
In recent times, he said the Nigeria Customs Service has taken significant steps in pursuit of its trade facilitation mission, which include the automation of trade procedures as highlighted by the recent launch of the Advanced Ruling system and the transition from Fast Track 2.0 to the Authorized Economic Operator (AEO) system.
The AEO system, Comptroller Mohammed Abubakar Umar said, is a globally recognized programme introduced by the World Customs Organization (WCO) to secure and expedite global trade.
Comptroller Abubakar Umar who appreciated the Government of Katsina State under Governor Dikko Umaru Radda and people of the State for providing the enabling environment that birth to the project.
He thanked the Nigeria Shippers Council for organizing the sensitization programme that would go a long way in enlightening all stakeholders.
He reiterated the need for collective efforts to make the Funtua dry ports a resounding success story for the country.
"We can unlock the immense potential that lies behind these gates paving the way for a brighter and more prosperous future for all," the Comptroller of the Katsina Area Command, Mohammed Abubakar Umar said.
Culled from New Nigerian Newspapers
Leave a Reply
Your email address will not be published. Required fields are marked *