"Insufficient: 400,000-strong healthcare workforce for Nigeria," says Minister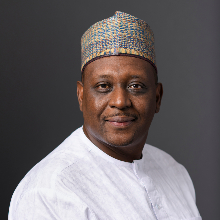 Professor Ali Pate, the Coordinating Minister of Health and Social Welfare, has expressed concerns that approximately 400,000 healthcare professionals in Nigeria do not meet the healthcare demands of Nigerians.
Pate made this assertion while addressing journalists in Abuja on Saturday, following his three-day briefing session with ministries and agencies within the sector.
The meeting was orchestrated by the ministry to devise a blueprint for Nigeria's healthcare framework.
As per Pate, the 400,000 personnel encompass community health champions, medical caretakers, childbirth specialists, medicinal chemists, physicians, laboratory scholars, technicians, and support staff functioning within the Nigerian healthcare infrastructure.
"These numbers fall short when considering the responsibility of catering to 220 million people. Our physician-to-population ratio falls below the World Health Organization's standards.
Thus, room remains to augment our workforce. In truth, there's the potential to exceed expectations, particularly since there's a global scarcity of healthcare personnel, with a shortage of nearly 18 million individuals.
In developed nations, where the populace is aging and retirements loom, there's an escalating demand for service providers.
Hence, if we contemplate this, we could produce for our own needs, and if some choose to depart for opportunities elsewhere, they can accrue valuable experience and return," he stated.
Nonetheless, Pate emphasized that with improved infrastructure and respectful treatment, some of them might opt to return to serve the nation.
"I don't intend to undervalue the contributions of our existing workforce. We must acknowledge, honor, and enhance their lives while concurrently expanding our training programs and addressing their concerns.
We genuinely cherish the Nigerian healthcare workforce and remain committed to their advancement," he added.
Regarding the cessation of medical tourism, Pate noted that this phenomenon exists in nearly all countries, whether advanced or emerging, as individuals travel to East Asia instead of the United States for cost-effective surgical procedures.
However, the key issue lies in using public funds to finance such endeavors, missing the opportunity to retain some of the resources within the country.
"When I mentioned unlocking the healthcare value chain, it encompasses mobilizing private investments in both physical infrastructure and human resources so that we can provide services people currently seek abroad.
We have initiated discussions about models that would lead us in that direction, as part of expanding our value chain, thereby diminishing the necessity for public financing.
Therefore, for cosmetic surgeries, there would be no need to utilize government funds; instead, we could offer these services domestically, thereby retaining your currency and providing employment opportunities locally," he explained.
The minister acknowledged that since people possess choices in healthcare destinations, medical tourism might never be entirely eradicated. Nevertheless, he assured that the Federal Government would employ human capital, private sector investments, and innovation to provide services locally.
Regarding obtaining financial support from development partners for the sector, Pate revealed that the team had engaged with these partners to outline Nigeria's requirements.
He explained that the majority of the healthcare budget in Nigeria originates from various levels of government, with a smaller fraction contributed by development partners.
"We must reach a point where a government program combines its budget with external contributions, ensuring transparency on both sides.
Government should gain more insights into how external entities allocate their resources, while also being more transparent about its own financial commitments," he stated.
NAN"
Leave a Reply
Your email address will not be published. Required fields are marked *