Flood: NMA urges State, FG to take proactive approach to avert disasters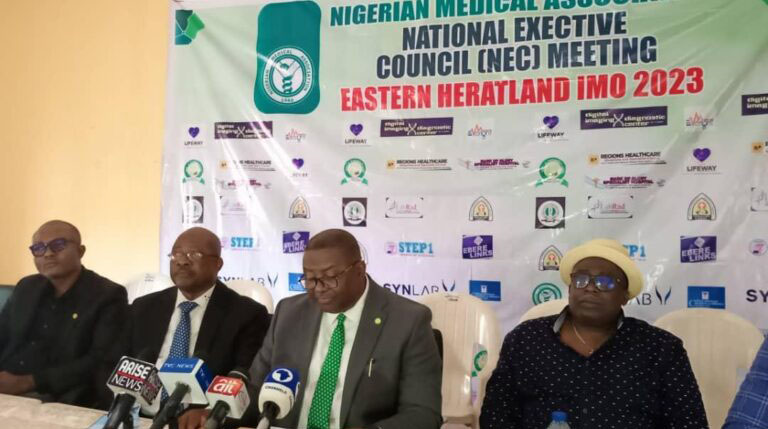 Culled From the Guardian
The Nigerian Medical Association (NMA) on Sunday urged State and Federal Governments to activate emergency preparedness against the impending flood.

The President of NMA, Dr Uche Ojinmah, made the call while addressing newsmen on at the end the association's National Executive Council (NEC) meeting held in Owerri between Aug. 27 and Sept. 3.
The News Agency of Nigeria (NAN) reports that the theme of this year's NEC meeting is "Healthcare System in a Depressed Economy."
NAN reports that the National Emergency Management Agency (NEMA) had said that some states are likely to be flooded, following the release of water from Lagdo Dam in Cameroon.
The states included Adamawa, Taraba, Benue, Nasarawa, Kogi and Anambra.
"The state governments, especially those in flood-prone areas, should be proactive, desilt their drainages, and remove barricades on flood plains.
"We also advise Nigerians living in or close to low lands to move to higher grounds while pleading with governments at all levels to assist these our fellow citizens in relocating," Ojinmah said.

The president also called on state and federal governments to quickly roll out palliatives for Nigerians to cushion the harsh effects of ravaging inflation with the attendant high food prices.
"We believe that between June and September, the palliative should have been rolled out.
"We insist that these palliatives should go to Nigerians and no longer a case of being stored in different warehouses," he stressed.
He noted that the country's economic base, which he claimed was not strong enough to withstand capital flight, was fanning the ambers of medical brain drain.
"NEC calls on government to ramp up efforts at stamping out wide spread insecurity in our country as a panacea for economic recovery and mitigation of medical brain drain.
"NEC thanks the Federal Government for the recent upward review of our consolidated medical salary structure, but we wish to point out that the agreement that was implemented from June 1 for upward review was finalised on May 25, which preceded the fuel subsidy removal and attendant escalation of inflation.
"NEC has directed her national officers to send our dear government a new demand for upward review of allowances while eagerly awaiting the review of minimum wage and consequential adjustment which we call on government to implement seamlessly," he added.

Leave a Reply
Your email address will not be published. Required fields are marked *