Katsina State Government Distributes Relief Funds to Families of Deceased Volunteers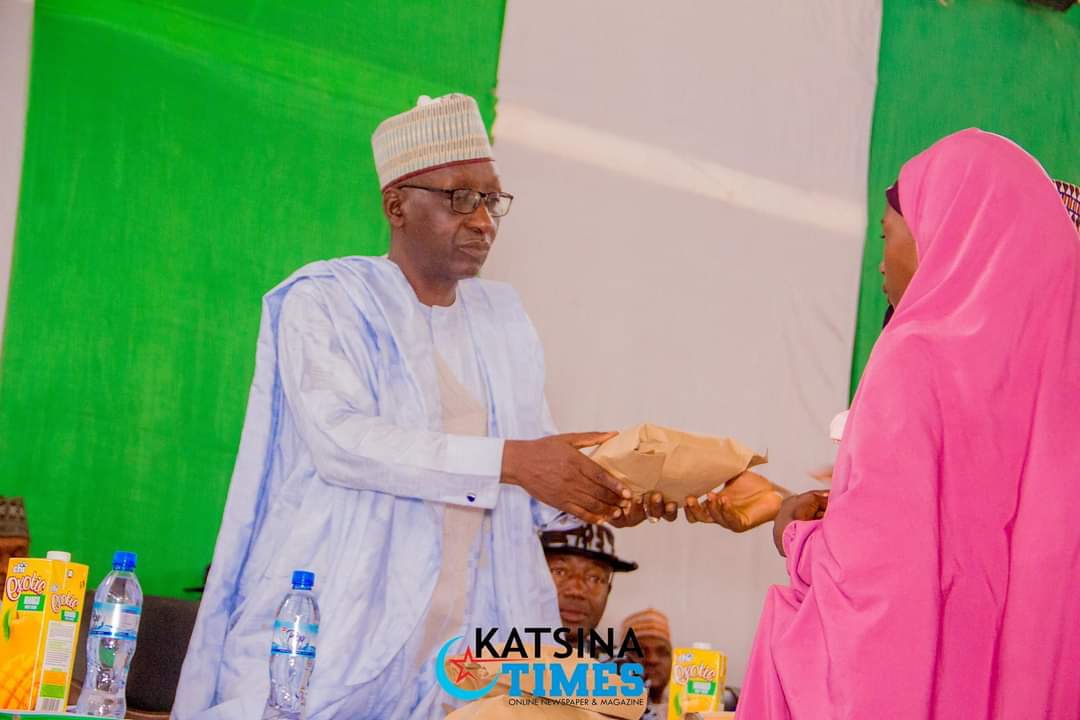 Zaharaddeen Ishaq Abubakar 2/08/2023
Katsina, Nigeria – In a compassionate gesture, the Katsina state government disbursed 20 million Naira to the families of the volunteers who tragically lost their lives. The aid distribution, which occurred on Saturday, September 2, extended support to both the families of the deceased and those who were injured during their service.
Families of the deceased volunteers received 500 thousand Naira each, while those who sustained injuries were provided with 250 thousand Naira in assistance. Notably, among the fallen heroes was a military officer who was posthumously celebrated for the birth of his son on the same day. His family was granted 1 million Naira by Governor Radda. Additionally, a police officer who was injured also received support.
The Special Adviser to the Katsina Governor on Victim Support for Gunmen Incidents elaborated on the support system and highlighted various initiatives undertaken by the Katsina State Government under his office.
Governor Radda issued a directive encompassing all individuals affected by the brutality of the gunmen, including security forces and local residents, instructing them to seek medical attention. He affirmed, "So far, we have patients at the Federal Government Teaching Hospital in Katsina and Orthopedic Hospital," expressing gratitude for their recovery.
Representing His Highness the Emir of Katsina, Alh. Dr. Abdulmumini Kabir Usman, Galadiman Katsina, Justice Sadiq Abdullahi Mahuta, conveyed the Emir's appreciation to the Katsina State Government and expressed concern for the bereaved families. He indicated that they would forward a proposal to the government for further consideration.
Justice Sadiq Abdullahi Mahuta also advocated allocating funds for a brave police officer from Dayi who had received assistance from the previous government due to having a large family. He called upon the current government to include his name in the next grant and highlighted the recent loss of a volunteer in Malumfashi, requesting a review for future support.
Speaking on behalf of Governor Dikko Umar Radda, Barr. Abdullahi Garba Faskari, the Secretary to the Government of Katsina State, elucidated the government's commitment to security. Faskari revealed that over 8 billion Naira would be allocated to enhance security measures in the state, emphasizing that security is a collective responsibility.
Addressing the Katsina State Volunteers Commandant, Clarified that support would not be limited to those affected during the Dikko Radda administration. Notable beneficiaries of the grant program included Haruna Rigoji, Aminu Abubakar Helikwafta's family, Mahara Barde, Muhammad Ragama Isa of Kabelewa, Abubakar Abdul'aziz, Alhaji Tsoho in Mahuta town, Salisu Adamu, and Faruqu Halilu in Safana local government.
The ceremony was attended by the Traditional rulers , judges of Katsina State, Governor's advisers and commissioners, as well as representatives from the security and the Police Commissioner of Katsina State.
Leave a Reply
Your email address will not be published. Required fields are marked *