GOVERNOR RADDA PRESENTS OVER N454BN BUDGET ESTIMATE TO STATE LEGISLATURE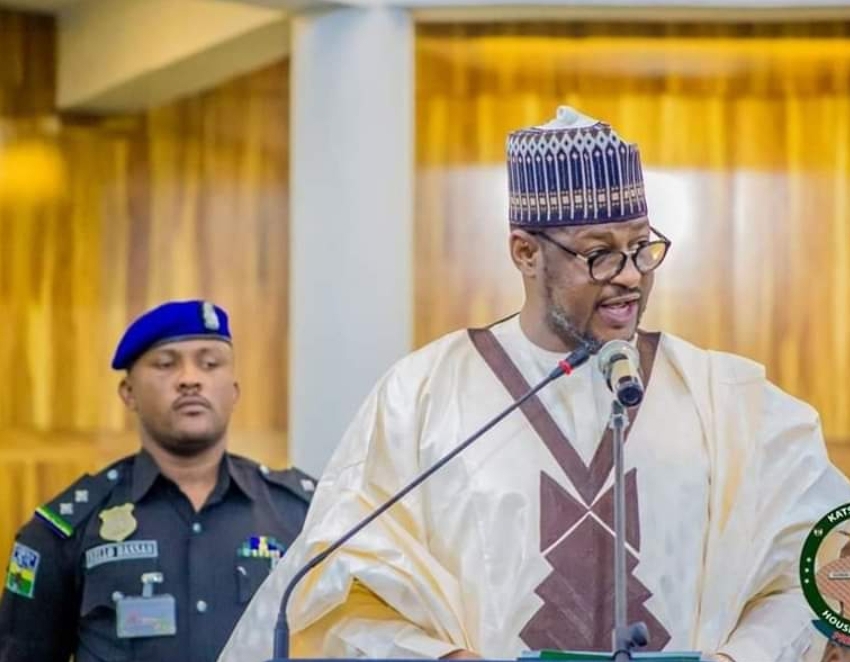 Katsina State Governor Malam Dikko Umar Radda has presented the 2024 budget estimate of N454,308,862,113.96k before the State House of Assembly.
The 2024 budget as indicated is comparatively higher than that of 2023 by N153,675,604,150.96k
The total amount of recurrent revenue to finance the 2024 budget is N188,061,977,186.28 which comprises N40bn as Internally Generated revenue from the State Board of Internal Revenue and other MDAs.
The projected revenue to be recieved from the Federation Account is estimated at the sum of N148,061,977,168.28
@ Katsina Times
The Recurrent Expenditure of the 2024 budget is N124,329,900,378.70.
The Capital Expenditure on the other hand stands at N329,979,518,595.97.
According to the budget estimate, Water Sector has the largest share of N67,161,802,447.30k. followed by the Education sector which has N66,422,889,400.20, Works N53,482,733,251.59,
Health N38,326,241,172.23, Environment N37,700,116,210.24, and Agriculture, N20,513,909,753.71
On the issue of security, Governor Dikko Radda reiterated the commitment of the administration to leave no stone unturned in its quest to restore peace and tranquility across the state.
The Governor maintained that, the State and the Local Governments have committed N7bn on security intelligence, gathering of information, screening and training of security personnel.
The Governor therefore appreciated the support and cooperation of the State legislature in moving the state forward.
The Speakers Katsina State House of Assembly Rt.Hon Nasir Yahaya congratulated the Governor for presenting a realistic budget and assured careful scrutiny of its content in conformity to the yearnings and aspirations of the electorates.
The Speaker equally commended the Governor for giving priory to security, provision of portable water, healthcare, education, agriculture and rural development.
Katsina Times
Www.katsinatimes.com
Jaridar Taskar labarai
Www.jaridartaskarlabarai.com
Leave a Reply
Your email address will not be published. Required fields are marked *