President Tinubu calls for free and fair elections in Bayelsa, Imo, and Kogi States.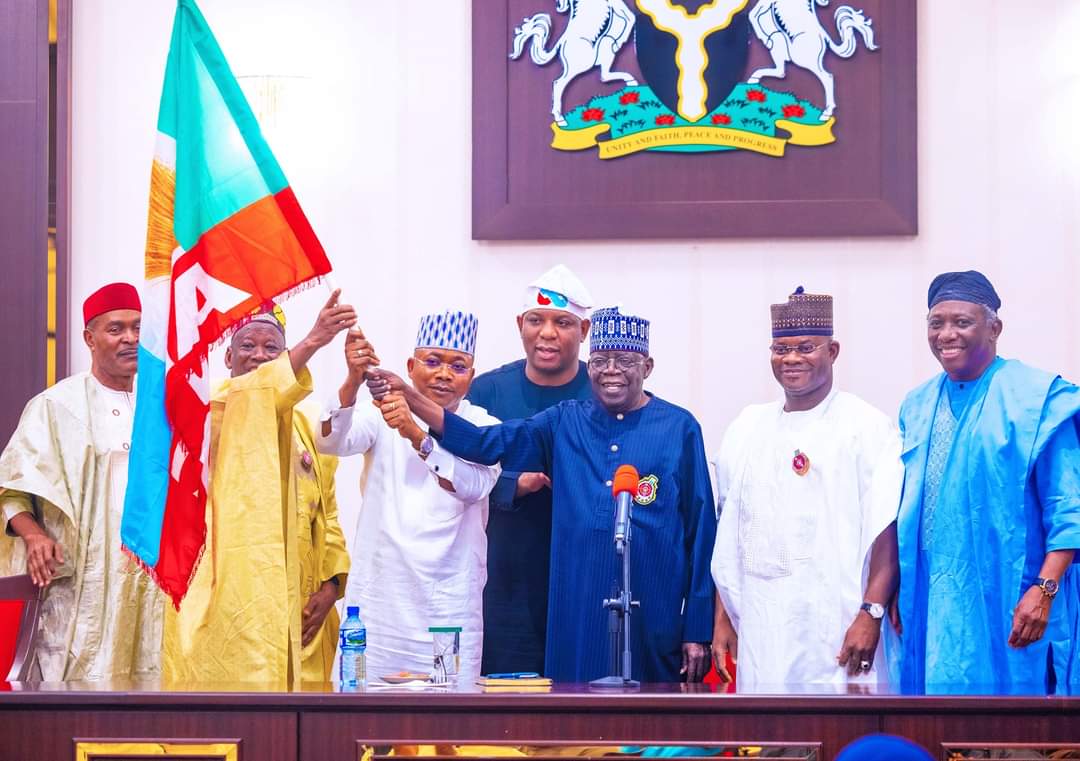 President Bola Tinubu Urges Candidates and Electorate to Ensure Free and Fair Elections in Bayelsa, Imo, and Kogi States
President Bola Tinubu, in a positive move, appealed to all candidates participating in the upcoming gubernatorial elections in Bayelsa, Imo, and Kogi States, as well as the electorate, to prioritize the pursuit of free and fair elections.
The President's appeal came during a significant event where he presented the All Progressives' Congress (APC) flags to the standard-bearers in these states. These candidates include Chief Timipre Sylva for Bayelsa State, Governor Hope Uzodinma of Imo State, who is seeking a second term, and Alhaji Ahmed Usman Ododo for Kogi State.
In his address, President Tinubu stated, "All I am pleading for is for free and fair elections. I believe we will do well.''
The President expressed confidence in the party's chances of victory in the upcoming elections, citing the hard work and impressive track records of the candidates. He also acknowledged the collective efforts of party officials, members of the APC National Working Committee, and the APC National Chairman, Dr. Abdullahi Ganduje, as factors contributing to his optimism.
President Tinubu expressed his appreciation, saying, ''I want to thank the Governor of Kogi State, Yahaya Bello, who is working hard to ensure a handover to our candidate, Usman Ododo. We are happy to have Hope Uzodinma, the great hope of our party and chairman of the Progressives Governors Forum. Thank you for the good job you are doing.''
The President also extended his congratulations to Timipre Sylva, acknowledging his achievements as a former governor and minister. He emphasized the importance of democracy and expressed hope in the victory of their candidates, especially with Hope Uzodinma in the race.
Additionally, President Tinubu thanked the active national leadership of the party, the NWC, and their hardworking chairman for their dedication and efforts in ensuring the party's success. The APC National Chairman, in turn, commended the President for endorsing the candidates and for taking time out of his busy schedule to present the flags to them.
Leave a Reply
Your email address will not be published. Required fields are marked *