President Tinubu's Administration Forges Strong Diplomatic Ties and Economic Opportunities with Foreign Ambassadors in Nigeria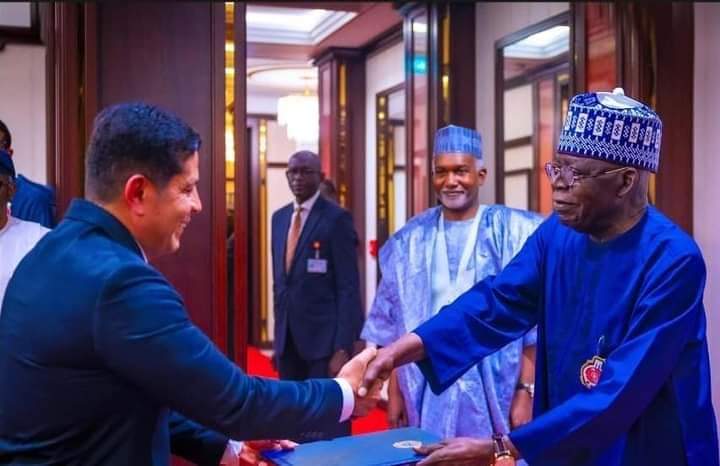 President Bola Ahmed Tinubu has reaffirmed his commitment to fostering robust diplomatic relations and advancing mutually beneficial economic opportunities in Nigeria. In a series of meetings with foreign ambassadors, President Tinubu emphasized his government's open-door policy and readiness to engage with the international community.
During the presentation of Letters of Credence to the President, Mr. Jose Bamoquine Zau of Angola, Mr. Pieter Leenknegt of Belgium, Mr. Sevin Baera of Norway, and Mr. Albert Castelar of Venezuela, President Tinubu extended a warm welcome, assuring them of his administration's support and cooperation.
President Tinubu highlighted the significance of maintaining strong diplomatic ties and expressed his willingness to address any concerns raised by the foreign missions. He stated, "We will maintain an open-door policy. We are ready to do anything that will make your stay rewarding and our relationship strong. Do not hesitate to bring up any matter with the Foreign Minister or my Chief of Staff; they will bring it to my attention."
In his meetings with the individual ambassadors, President Tinubu discussed specific areas of cooperation. He congratulated President Joao Lourenco of Angola on his re-election, emphasizing the strong friendship between the two nations.
For Belgium, President Tinubu acknowledged the active participation of Belgian companies in Nigeria's maritime industry and highlighted the potential for further political and economic collaboration, particularly in the maritime and energy sectors. He also discussed the dredging of Calabar port to enhance revenue generation.
President Tinubu outlined his energy transition vision for Nigeria to the Norwegian Ambassador, emphasizing the shift from petroleum to gas to hydrogen as a priority for his administration. He urged Norway and other EU-member countries to support Nigeria's economic reform programs, especially in the areas of food security and agro-allied investments.
The Bolivarian Republic of Venezuela expressed the desire to establish direct flights between the two nations and deepen economic partnerships, particularly in trade and investment.
These meetings and discussions highlight the proactive approach of President Tinubu's administration in fostering positive international relationships and advancing economic opportunities across sectors. The President expressed his commitment to ensuring the success and growth of Nigeria, underlining the importance of these collaborations in achieving that goal.
Leave a Reply
Your email address will not be published. Required fields are marked *