Terrorists kill four, abduct many in Katsina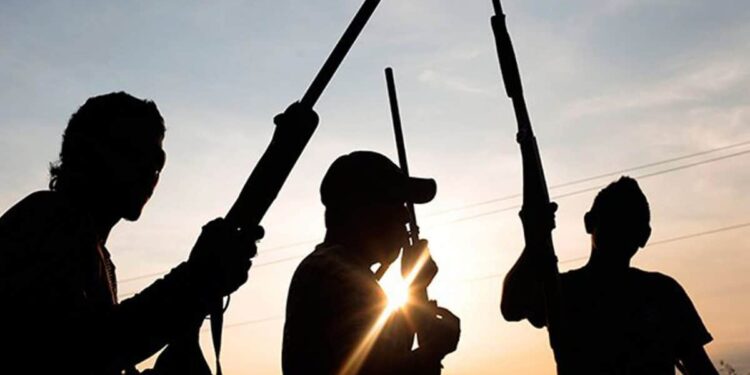 At least four people including a policeman were killed while dozens of others were abducted when terrorists attacked Domawa in Danmusa Local Government of Katsina State Thursday night.
Five ladies and a man were also abducted in a separate attack on Sukola, in Bakori Local Government in the same state.
Domawa is less than a kilometre drive from Danmusa, the headquarters of the local government. The terrorists attacked the community some minutes after 9:00 p.m., according to a local source.
"The terrorists went into the town and began shooting indiscriminately to scare people. The three residents killed were considered a threat by the terrorists because when they (terrorists) asked them to follow them, they refused," a local source, who asked not to be named for security reasons, the source told PREMIUM TIMES on Friday night.
He gave the names of those killed as Sa'idu Mai Kyaran, Na Doguwa and Suyudi Mai Tabarma while the policeman's name was given as Hassan.
He said Mr Hassan was killed when he and his colleagues rushed to the community to engage the insurgents.
"The policemen were ambushed while driving into the village by the terrorists. If not because of the arrival of soldiers stationed at Dan Ali, the damage would have been worse," he added.
The source, who resides in Danmusa, said the number of those abducted is yet unknown.
Four wedding guests abducted
In the southern part of Katsina State, the terrorists also launched an attack that led to the abduction of five ladies who were attending a pre-wedding event in Sukola.
One other resident of the community was also abducted.
"They (ladies) were from different villages around Sukola. They went to the village to felicitate with a friend who is supposed to get married today (Saturday). You know women have events before the normal marriage event, it was after the night event that the terrorists attacked the community," a youth leader in the community who sought anonymity for security reasons said.
He gave the names of the abducted ladies as Maryam Sani, Maijidda Kabir, Abida Matthew and Maryam Ibrahim. He said he didn't know the last lady's name.
During the attack that occurred around 11:00 p.m., the source said the terrorists came with "many weapons," blocked all routes into the community and continued shooting to cause confusion.
"We don't know whether someone alerted them that we had visitors or they would be a ceremony but it's scary the level of attack these people can organise and escape without being repelled by security agents," he said.
He, however, noted that "hours" after the terrorists left, policemen from the Bakori police division came to the community.
When contacted, the police spokesperson in the state, Abubakar Sadik, confirmed the abduction in Sukola.
"It happened as you noted but the command is working towards rescuing the victims," he said in a phone interview.
Culled from Premium Times Nigeria
Leave a Reply
Your email address will not be published. Required fields are marked *