Guardian sacks its own cartoonist Steve Bell who had worked at the paper for over 40 years over 'anti-Semitic' Benjamin Netanyahu cartoon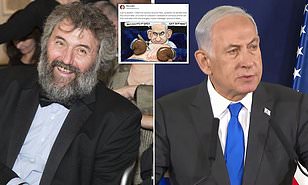 Daily Mail.co.uk
Artist Steve Bell says he has been sacked by The Guardian over claims that a new cartoon linked to Israel was 'anti-Semitic'.

The cartoonist, who has worked for the Left-wing newspaper for more than 40 years, claims he has been told it is no longer willing to publish his work after he submitted a controversial image of Benjamin Netanyahu.
n the picture, the Israeli prime minister wears boxing gloves and holds a scalpel over his exposed belly, readying a cut in the shape of Gaza, with the caption: 'Residents of Gaza, get out now.'
Critics have taken this to be a reference to Shylock, the Jewish moneylender in Shakespeare's play The Merchant of Venice who demands a 'pound of flesh' from someone who cannot pay him back.
Mr Bell has defended the image and decried accusations that he used anti-Semitic tropes – although it is not the first time he has faced these claims.
He has insisted it is a reference to a 1960s cartoon by David Levine, who drew US President Lyndon B. Johnson with a Vietnam shaped scar on his torso at the time of the war in the south-east Asian country. The cartoon Mr Bell submitted last week has the words 'After David Levine' above the artist credit.
Leave a Reply
Your email address will not be published. Required fields are marked *