Zainab Abubakar, a woman abandoned by her husband with four children, receives support from the community.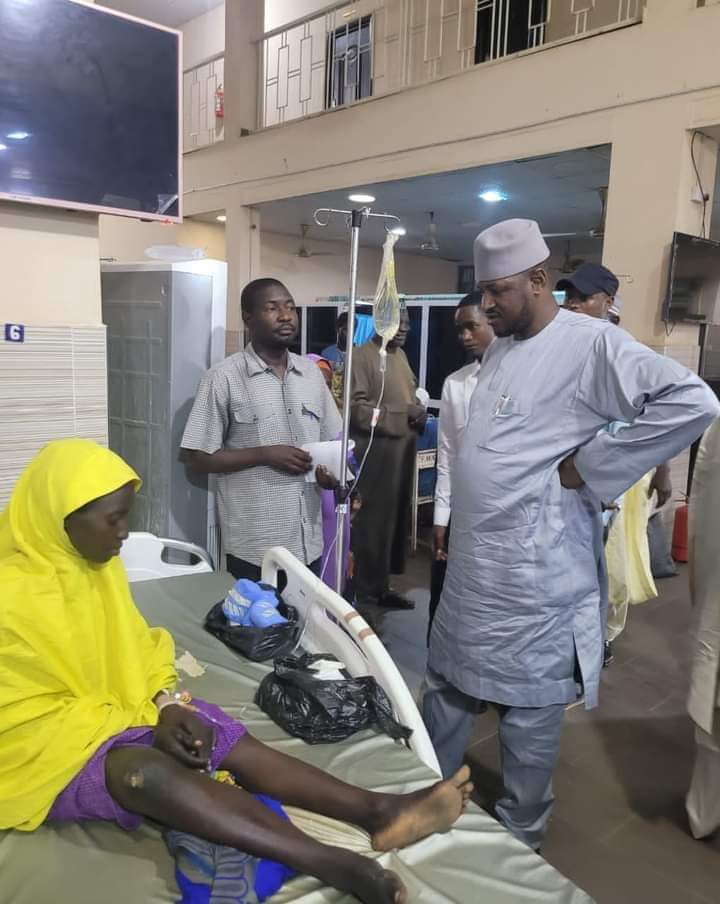 Zainab Abubakar, a woman abandoned by her husband with four children, receives support from the community.
By Zaharaddeen Ishaq Abubakar, Katsina Times
In a poignant incident that unfolded last Saturday, a woman named Zainab Abubakar came under the spotlight of social media due to her suffering from leg pain.
Katsina Times reached out to one of the individuals responsible for sharing the video, who divulged the contact details and pertinent information in order to garner assistance for the woman. In this regard, we were provided with comprehensive insight into the contents of the video.
The woman in question, Zainab Abubakar, finds herself in a distressing predicament after her husband abandoned her and their four daughters in a rented house.
In circumstances we observed while compiling this report, her husband absconded and left her in the rented dwelling. Subsequently, she resorted to begging for sustenance, but tragedy struck when she was involved in a motorcycle accident (Dan'achaba), resulting in a broken leg that has left her immobilized.
Zainab Abubakar lacks any familial support within Katsina town, a situation that has led to her children enduring starvation due to the dearth of nourishment caused by their mother's ailing health.
The dissemination of the video posed a challenge, yet the local community, both within and beyond Katsina, exhibited compassion by extending financial contributions to alleviate her plight. Notably, Hon. Sani Aliyu Danlami, a former Member of the House of Representatives from Katsina, has pledged to oversee her healthcare needs until she achieves recovery. Furthermore, Hon Aliyu Abubakar Albaba, also hailing from Katsina, personally contributed to the cause.
Various communities and organizations rallied to support the cause, with the Katsina state government intervening to provide medical assistance for Ms. Zainab Abubakar, who is currently hospitalized.
What Transpired Next?
Amidst these acts of kindness, opportunistic fraudsters have taken advantage of the woman's situation, deceiving individuals under the pretense of aiding her and her children. This has sparked debate, with some asserting that such activities should cease given the government's involvement, while others contend that ongoing support and a more permanent housing solution should be provided in lieu of the current rented accommodation.
In summation, the prevailing sentiment is one of compassion displayed by the community, a sentiment that warrants continued investigation and assistance for individuals like Zainab Abubakar, who find themselves in dire straits. It is a call for collective action to extend aid to those in need, a sentiment underscored by the plea for divine intervention to assist the underprivileged.
Leave a Reply
Your email address will not be published. Required fields are marked *
Hauwau
Masha Allah Allah yasaka da alheri Amman akwai irinsu da yawa Allah yabada iKon taimakawa Amin